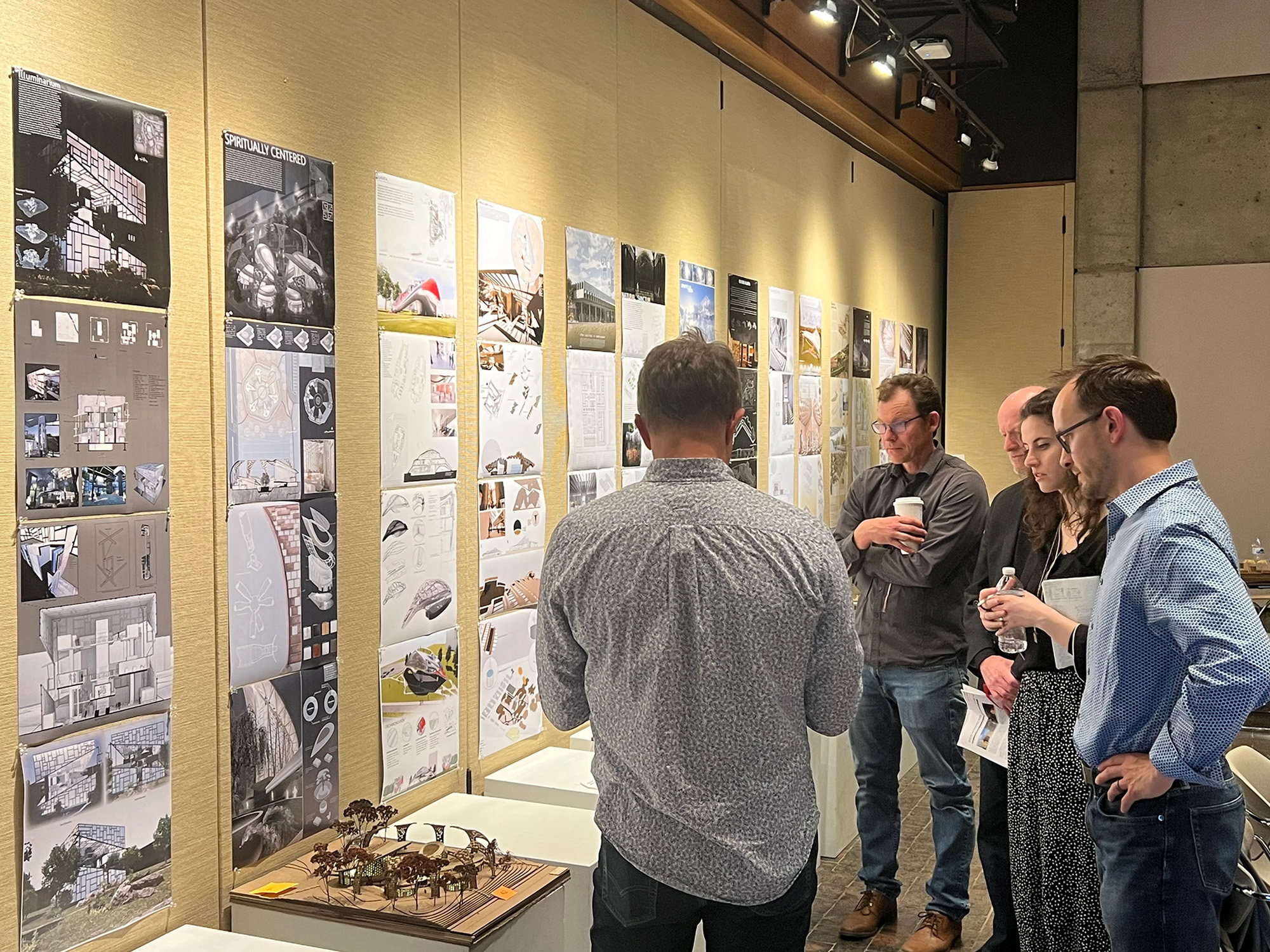 2023 MKM Third-Year Ball State CAP Design Competition Award Winners
Since 1993, MKM architecture + design (MKM) has facilitated a scholarship for the Ball State College of Architecture and Planning. An endowment was established specifically for these architecture students, funding an annual design competition for those in their third-year. More than $4,000 in prize money is awarded to selected projects. The MKM Steel Competition, which was based off the ACSA National Steel Competition, allowed 61 Ball State College of Architecture and Planning students to choose one of three sites on the BSU campus. This year's challenge was to design "A Place for the Spirit" for their chosen site, welcoming to all, where members of the campus community and visitors can learn about and express spirituality. Program spaces include places for worship, meditation, learning, and fellowship. Steel is the primary material.
Twenty-two students made the finalist short list and seven of those students were recognized with an award, with the top award being The Menze Prize. This award was created in 2017 to honor Ronald Menze, one of the founding Principals of MKM and a recipient of the Alumni Award of Outstanding Achievement from Ball State's College of Architecture and Planning.
Jury
Lucas Brown, AIA, Brownsmith Studios, Bloomington, IN
Sara Codarin, PhD, Lawrence Technological University, Southfield, MI
Dodd Kattman, AIA, MKM architecture + design, Fort Wayne, IN
Clete Kunce, AIA, ONE 10 STUDIO, Indianapolis, IN
Steve Zabel, FAIA, MD+A, Indianapolis, IN
Menze Prize Winner
Matthew Coffee, "The Canopy"
Merit Award
Nathan Owens "Natural Sanctum"
Merit Award
Alec Meister "Spiritually Centered"
Honorable Mentions
Kyler Williams
Nathan Ritz
Kaylynne Fernandes
Emma Wynn
Finalist Short List (no award recognition)
Nash Miller
Joshua Hoff
Adebisi Igbasanmi
Dylan McCullum
Ethan Hoover
Cade Iles
Benjamin Rutledge
Jashawn Keys
Graham Longnnaker
Ainsley Ludema
Becca Northey
Braeden Noll
Kevin Shelly
John Majekodunmi
Brenna Campbell