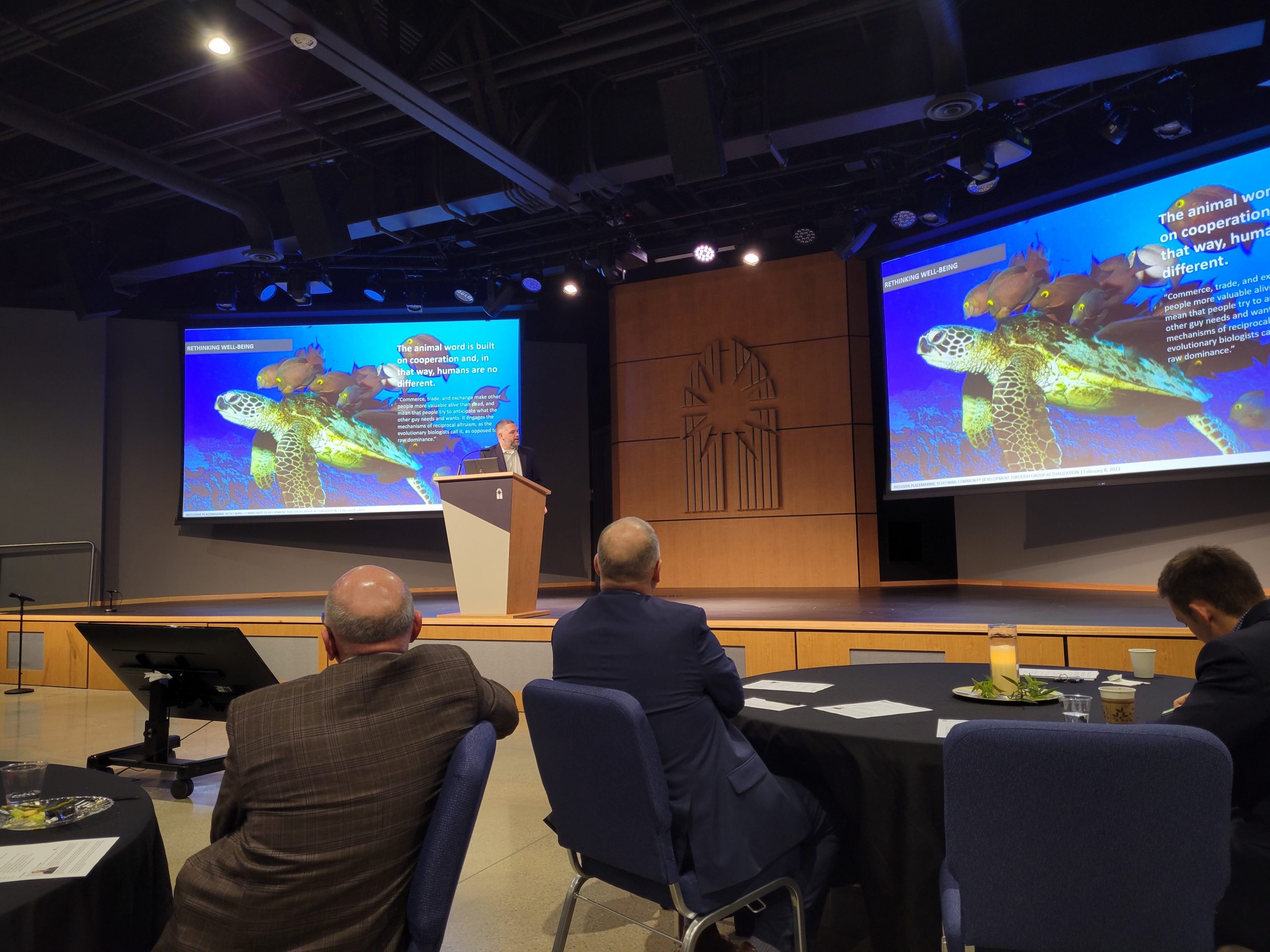 Publications + Presentations
We spend a lot of our time thinking about the connection between people and places. Through our research initiative, we have actively shared these ideas across the country.
Publications
MKM continually strives to grow and cultivate new ideas. Our staff works tirelessly to understand emerging trends within the industry through both commissioned projects and research-driven explorations. In doing so, we have established a collaborative research initiative, fueling our curiosity to investigate new and innovative strategies across the care continuum. These efforts have produced a series of white papers and conference presentations exploring ideas ranging from livable communities and cognitive wayfinding to Lean Healthcare strategies and patient satisfaction. The following is a list of our recent work.
Forthcoming: Considering the Future State of Our City, December 2021.
The Power of Place: Why Your City's Built Environment Has a Bigger Impact Than You Might Think, Input Fort Wayne, February 2020.
Purposeful Design: How Two Architectural Gems of Fort Wayne's Past Can Influence Its Future, Input Fort Wayne, July 2019.
Retrofitting Small Towns: How Aging-in-Place Could Transform Rural America. Philip Stafford (Ed.), Global Age-friendly Community Movement: A Critical Appraisal, London: Berghahn Books, 2018.
Multiple articles, Fort Wayne Monthly Magazine, 2012-present.
Presentations
Healthy Placemaking: Understanding the Connection Between People & Places [Keynote], Indiana Society of Healthcare Engineers, West Lafayette, IN, February 2023.
It Takes A Village: Anchor Institutions and Public Health, Michigan Library Association Annual Conference, Port Huron, MI, October 2022.
Cultivating Connections: Redefining the Power of Inclusive Placemaking for All Ages [Keynote], Age Friendly Arizona Conference, September 2022.
Affordable Housing Strategies that Promote Personal Well-Being and Success, The Center For Health Design Virtual Workshop, August 2022.
Hospice Planning that Promotes Hope, Dignity, and Compassion, LeadingAge Indiana, Indianapolis, IN, May 2022.
Health is Membership: Connecting Cooperative Frameworks and Successful Aging, Environments for Aging Conference + Expo, Milwaukee, WI, April 2022.
Health is Membership: Redefining the Power of Anchor Institutions [Keynote], Heartland Library System Virtual Conference, November 2021.
Cooperative Clusters: Correlating Placemaking and Group Actualization, American Institute of Architects (AIA) Indiana/Kentucky Annual Convention, Louisville, KY, September 2021.
The Antifragile Agenda: Examining Rural Communities Through a Post-Pandemic Lens, Indiana Rural Health Association Annual Conference, French Lick, IN, June 2021.
Bridging the Gap: Examining the Impact of Telehealth on Community Health and Well-Being, Upper Midwest Telehealth Resource Center, May 2021.
Swimming Upstream: Redefining Healthcare through Non-Traditional Facilities, Indiana Hospital Association Webinar, November 2020.
Inclusive Placemaking: Understanding the Power of an Accessible Library for All, Indiana Library Federation Annual Conference, November 2020.
Architecture & Design in the COVID-19 Environment, LeadingAge Indiana and Indiana Assisted Living Association Virtual Conference, July 2020.
The Good Place: A Design Approach to Improve Clinical Outcomes for an Older Adult Population, Indiana Rural Health Association Webinar, June 2020.
Finding Purpose in Society, Creative Mornings Fort Wayne, Fort Wayne, IN, May 2020.
6 Minutes from Toilet Paper – Why Where You Live Matters, Building Vibrant Communities Podcast, April 2020.
The Petula Clark Postulate: How Communities will Address an Epidemic of Loneliness, ARCH Lecture Series, Fort Wayne, IN, January 2020.