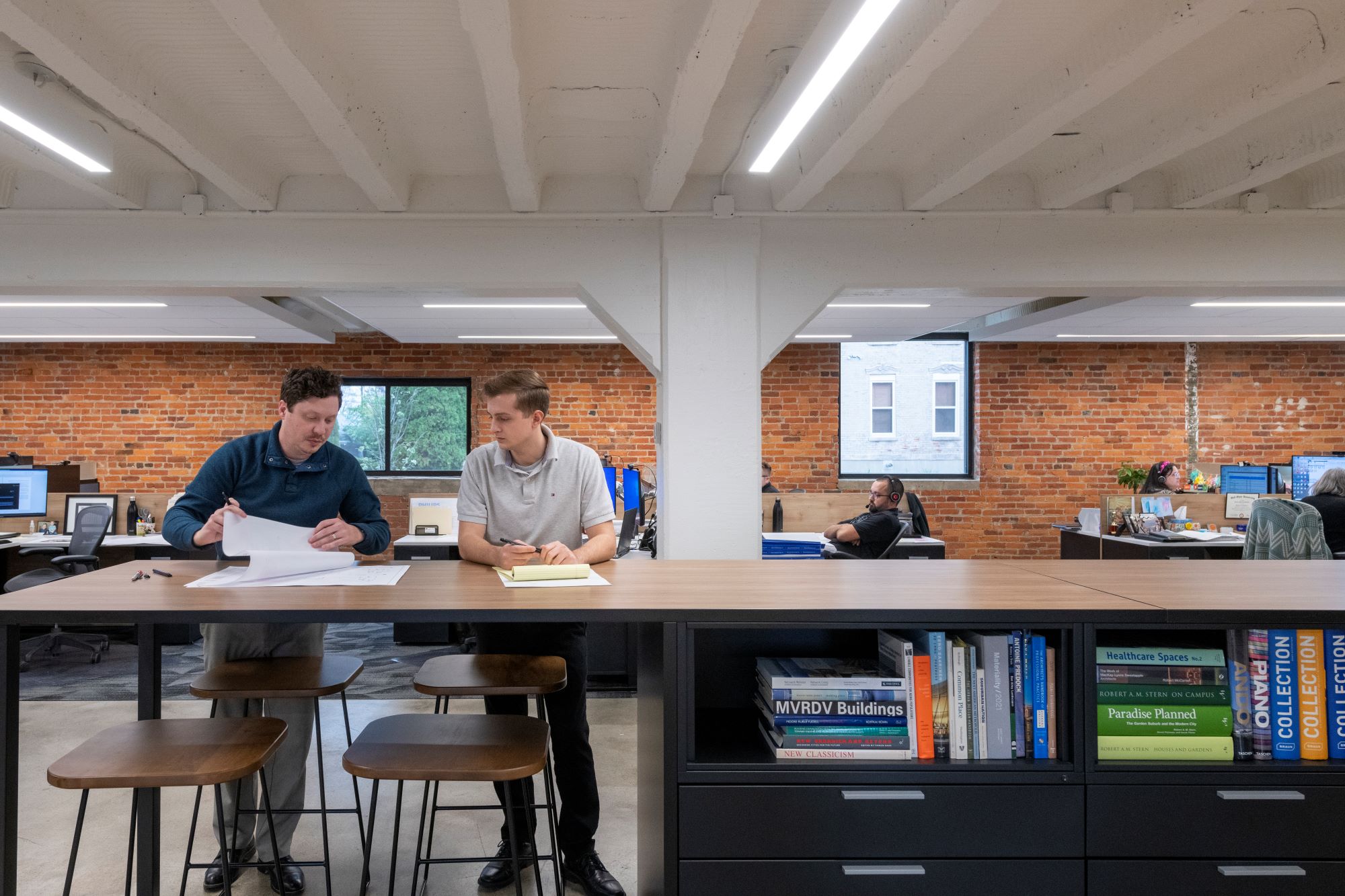 Internship Program
Architectural/Interior Design Internship
Temporary | Full-Time | Training Provided
Summary
MKM architecture + design (MKM) offers a paid internship program for architecture students. At MKM, we are passionate about building rewarding careers at all levels. We firmly believe in the power of curiosity, and that your talent, attitude, and contributions directly affect your professional trajectory. Our internship program offers the opportunity to forward young designers' careers in design which supports health and well-being. Our hands-on learning approach, which supports the National Council of Architectural Registration Boards' framework for the Architectural Experience Program, will provide interns with experience in all stages of design, from space programming to construction administration.
WHY MKM?
Team Culture
We are in this together. We embrace challenges, and rarely take no for an answer. We believe there's creativity around any obstacle. That's what we do – "curiosity" is our love language and the lifeblood to our culture. As MKM continues to grow, its primary investment is in its staff.
We Love Our Community
MKM seeks to serve the health and well-being of our community through civic engagement activities throughout the year. Interns are invited to take part in volunteer activities, group outings, and other events (from our weekly Friday Feast to our annual pumpkin carving competition).
Mentorship Program
Interns will receive mentorship from architects and designers within the firm, offering years of experience in award winning healthcare design, leading innovation, and changing policy across the care continuum. This program is meant to help each individual succeed on their career path and to have support along the way from a seasoned professional.
WHY FORT WAYNE?
As a nationally recognized city, awarded for our vibrant community and outstanding quality of life, you will thrive in Fort Wayne, Indiana! From our exciting arts & culture scene to our incredible parks and trails system, there are endless opportunities to learn and explore. Fort Wayne is the second-largest city in the state of Indiana with an attractive low cost of living, coupled with a high quality of life. These traits have propelled Allen County to be one of the fastest-growing metros in the Great Lakes region.
Learn more about the city we are proud to be a part of through information and resources from Greater Fort Wayne and Visit Fort Wayne.
Position Responsibilities
Assist with production of construction documents
Assist with development and refinement of project details
Create mixed media deliverables (3D models, renderings, animations)
Attend site visits to assist with field work and measuring of facilities and equipment
Be available and willing to work overtime when project deadlines require additional time
Be punctual, responsible, and dedicated to team success
Perform other duties as assigned
Required Knowledge and Skills
Effective communication skills
Able to communicate effectively and develop professional relationships within a variety of disciplines under multiple directives; reads and interprets complex information; listens well.
Creativity and design-focused
Generates creative solutions; translates concepts and information into images; uses feedback to modify designs; applies design principles; demonstrates attention to detail.
High accuracy and attention to detail
Able to perform work with precision and accuracy; realizes errors can have significant impact on desire results and is able to avoid errors; carefully monitors processes.
Professionalism and interpersonal skills
Demonstrate professional demeanor; ability to work independently and as part of an effective team; personable, reliable, and honest with an entrepreneurial drive.
Basic job knowledge
Understands building systems and architectural components; able to read and utilize construction documents.
Computer skills
Fluent in PC environment; Microsoft Office; Adobe Photoshop; 3D modeling software.
Experience
Successful completion of three years of an undergraduate program in Architecture or Interior Design is preferred.
If this internship is related to degree requirements, please outline intended internship timelines and requirements. We prefer that applicants are available for a six- to eight-month internship, but a three-month minimum commitment is required.
If interested, please submit a cover letter, resume, and a portfolio sample through the webform.