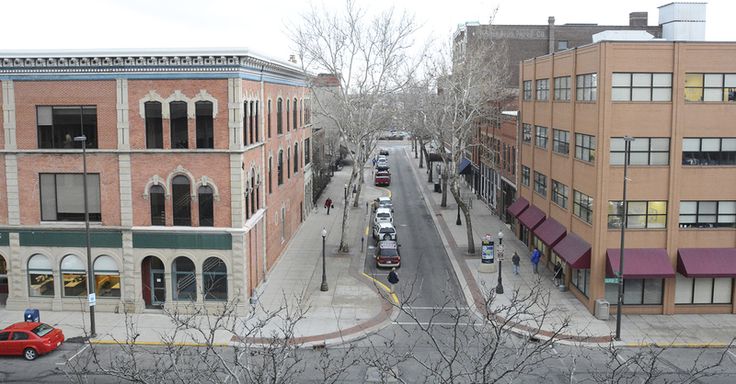 MKM architecture + design selected as architect for "The Landing"
MKM architecture + design (MKM), in partnership with The Model Group (www.modelgroup.net), has been selected by the Downtown Development Trust as the redevelopment team for the historic "Landing" district along Columbia Street in downtown Fort Wayne, Indiana.
The Landing will serve as a gathering place for housing, businesses, and entertainment aimed at revitalizing this once vibrant central commercial district. The Downtown Development Trust worked closely with the City of Fort Wayne, the Community Foundation of Greater Fort Wayne, and the U.S. Department of Housing and Urban Development to acquire seven buildings and two parking lots. With over 100,000 square feet of available space for retail, entertainment and housing, the project will represent the most significant mixed-use urban redevelopment for Fort Wayne in decades. "We're looking forward to The Landing project being one we can all be proud of and reflects the progress and momentum we're experiencing in Fort Wayne," said Mayor Henry at the recent press conference.
With its historic proximity to the canal, the project site was home to many of northeast Indiana's earliest commercial activities, including its first market, post office, theater, and telegraph office. Over the years it was an active and important retail and trading post providing numerous goods and services (e.g., hotels, taverns, restaurants, markets, boarding houses).
"This is an incredibly important moment for downtown Fort Wayne," said Zachary Benedict, Partner at MKM. "In understanding the significance of the Landing, and its place in our community's history, this project is an exciting opportunity to strengthen our downtown's ability to provide a work/live/play lifestyle for people of all ages and abilities."
The Model Group, based in Cincinnati, is an integrated property development, construction, and management company specializing in the revitalization of urban neighborhoods. They garnished national attention for their involvement in the redevelopment of Cincinnati's "Over-the-Rhine" (OTR) neighborhood – the largest intact, national historic district with the largest collection of Italianate architecture in the country.