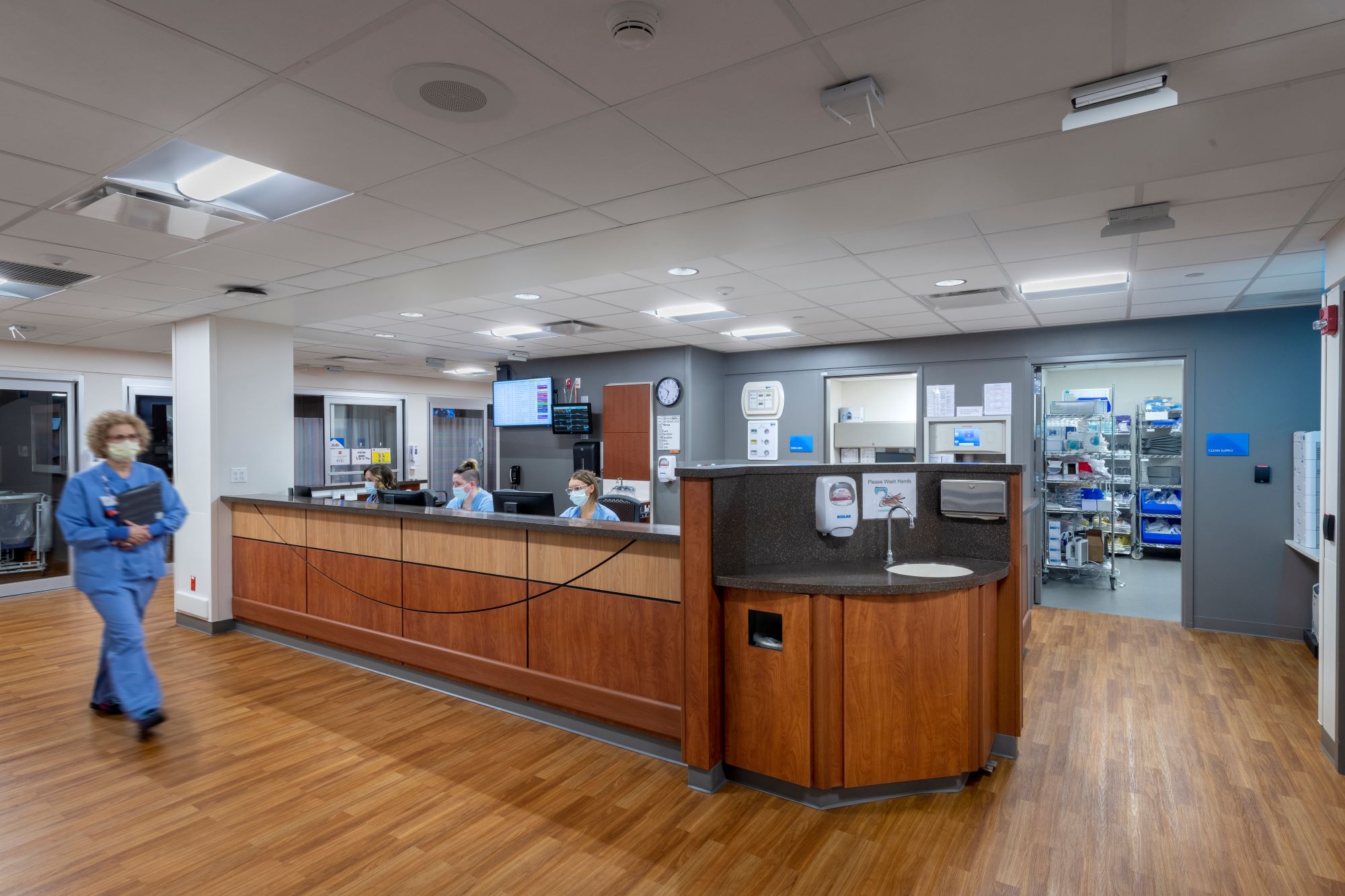 Healthcare
Ascension Saint Vincent Hospital Burn Center and Wound Clinic
Critical Care
Indianapolis, Indiana
MKM partnered with Ascension Saint Vincent and Medxcel to enhance the existing operating room and intensive care unit spaces in the hospital to meet accreditation and level of care standards for the burn center. Clinic spaces in the professional office building of the hospital were renovated to serve as a wound clinic, providing outpatient and follow-up care.
Burn Center
This eight-bed unit provides access to treatment and therapy options in one location, creating ideal conditions to provide care for patients during their hospital stay. The renovation was designed and constructed in tandem with an outpatient wound care clinic within the hospital, providing the full scope of services to treat a burn incident at one location. The unit includes two hydrotherapy rooms and a limited physical therapy area, so that patients may begin recovery within proximity to their room. Due to the nature of hydrotherapy treatment, an additional sound barrier was incorporated in the wall construction to ensure measures were taken to limit sound between treatment rooms and hallways.
Thorough research and testing of infrared heating panels was completed during the design phase, to ensure optimal patient comfort and safety levels during treatment in the ICU OR. Panel mockups and temperature tests were performed to investigate spatial considerations which would impact effectiveness of the panels and interferences, such as evaporation. Evaporation causes the body to lose heat, which can result in complications for those recovering from a burn injury. The infrared heat panel is critical to holding a patient's body temperature during surgical procedures.
Wound Clinic and Full Physical Therapy Suite
Special design considerations were made for the outpatient Ascension St. Vincent Health Wound Care Center. Spaces were made to accommodate wheelchair and stretcher-bound individuals, as many of the patients have mobility restrictions.
All patient rooms used an on-brand blue paint on the back walls for an added layer of calm. During treatment, progress photos of healing are taken, and the blue is intended to provide a simple and soft background for the photos. In the two special pediatric rooms, Armstrong® ceiling panels with images of the sky and clouds were installed. These panels incorporate an element of nature to offer comfort to patients while they are on an exam table.
More Healthcare Projects