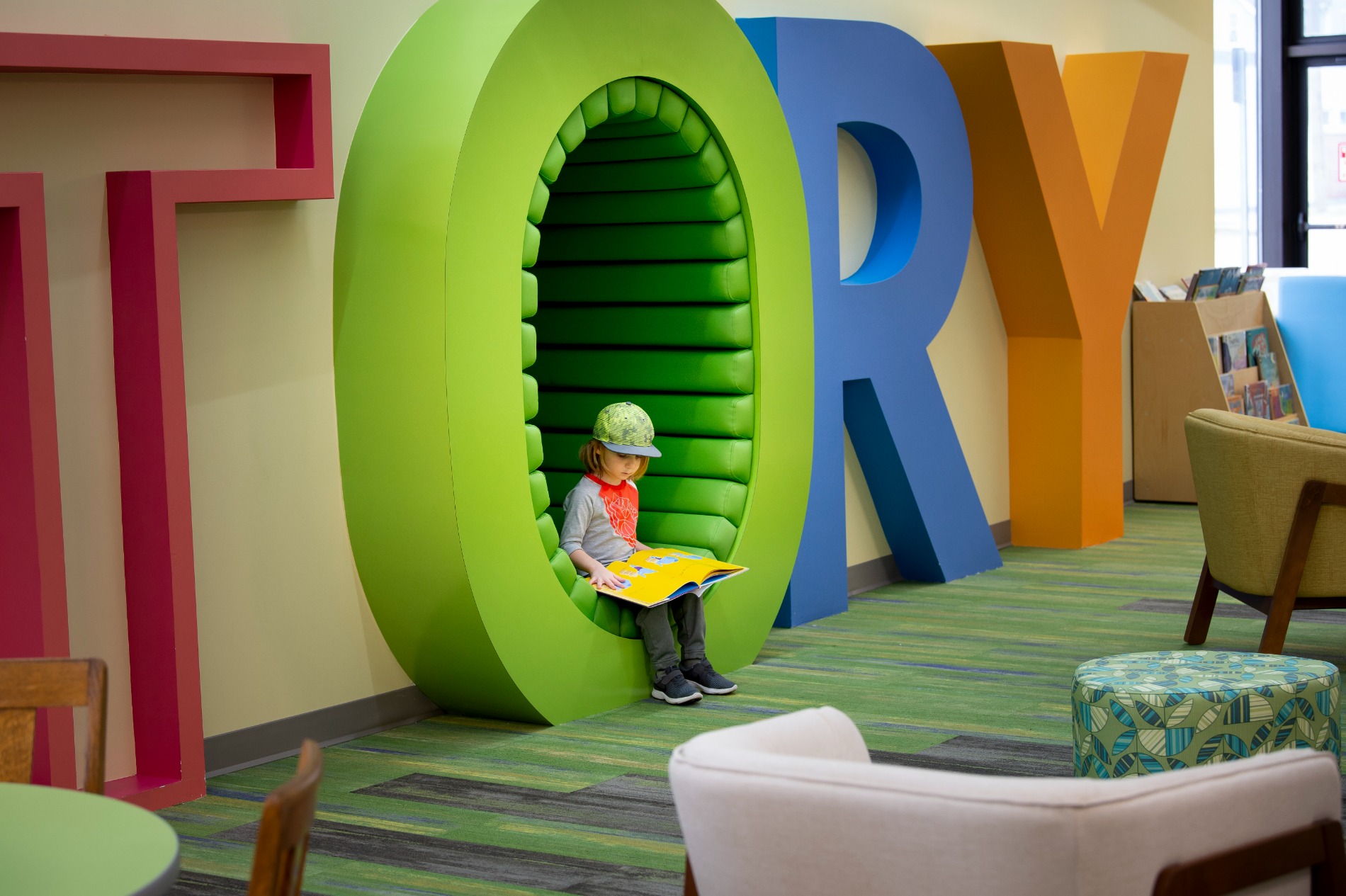 Commons
Huntington City-Township Public Library
The Giving Tree
Huntington, Indiana
In the United States, 80% of public libraries exist in towns with fewer than 25,000 people. In rural communities, such as Huntington, Indiana, libraries are not only hubs for information, access to books and entertainment, but opportunity incubators for individuals of all ages and abilities. They provide opportunities for personal growth, creativity and camaraderie. In an age where "attachment" and "happiness" are economic terms, libraries are the key to a thriving and sustainable community. They are the third places that rural communities desperately need to survive coming demographic shifts.
The Huntington City-Township Public Library (HCTPL) has served its community since 1903. The renovation covers 30,000 SF of the 46,000 SF building and aims to create a more welcoming and inclusive space for the community, addressing key concerns of wayfinding and inefficient use of space. In addition, the renovation creates engaging spaces for individuals of all ages that encourage social interaction and independence.
Patrons are welcomed by a new circulation area providing an improved customer service experience. An inviting reading area near the front entrance of the library highlights a Majestic Company cast iron fireplace manufactured in Huntington, Indiana, alongside a new contemporary fireplace. The Majestic cast iron furnace faceplate remains from the original location of the library. Although, The Majestic Company no longer manufactures fireplaces in Huntington, Indiana, this piece of local history remains.
Administrative offices were consolidated to the back of the building, opening the previously divided Children's area to increase accessibility and visibility. In the Children's area, custom built-in wall seating provides unique reading nooks for children to curl up with a book. A tree canopy of leaf ceiling panels distinguishes the Children's area from the rest of the library. New study pods in the Teen area provide semi-private seating for students to study in small groups.
The HCTPL is unique in how it displays its collection; the library does not use wall shelving displays. This allowed our design team to consider wall color and artwork as a wayfinding tool throughout the space. Color selections were made by considering the psychological effects of each color. Blue, a color of peace and trust, is used in new conference room and meeting areas. In the Teen area, new study pods are painted yellow, a color of warmth and happiness. Finally, in the Children's area, pops of green compliment the forest theme.
More Commons Projects