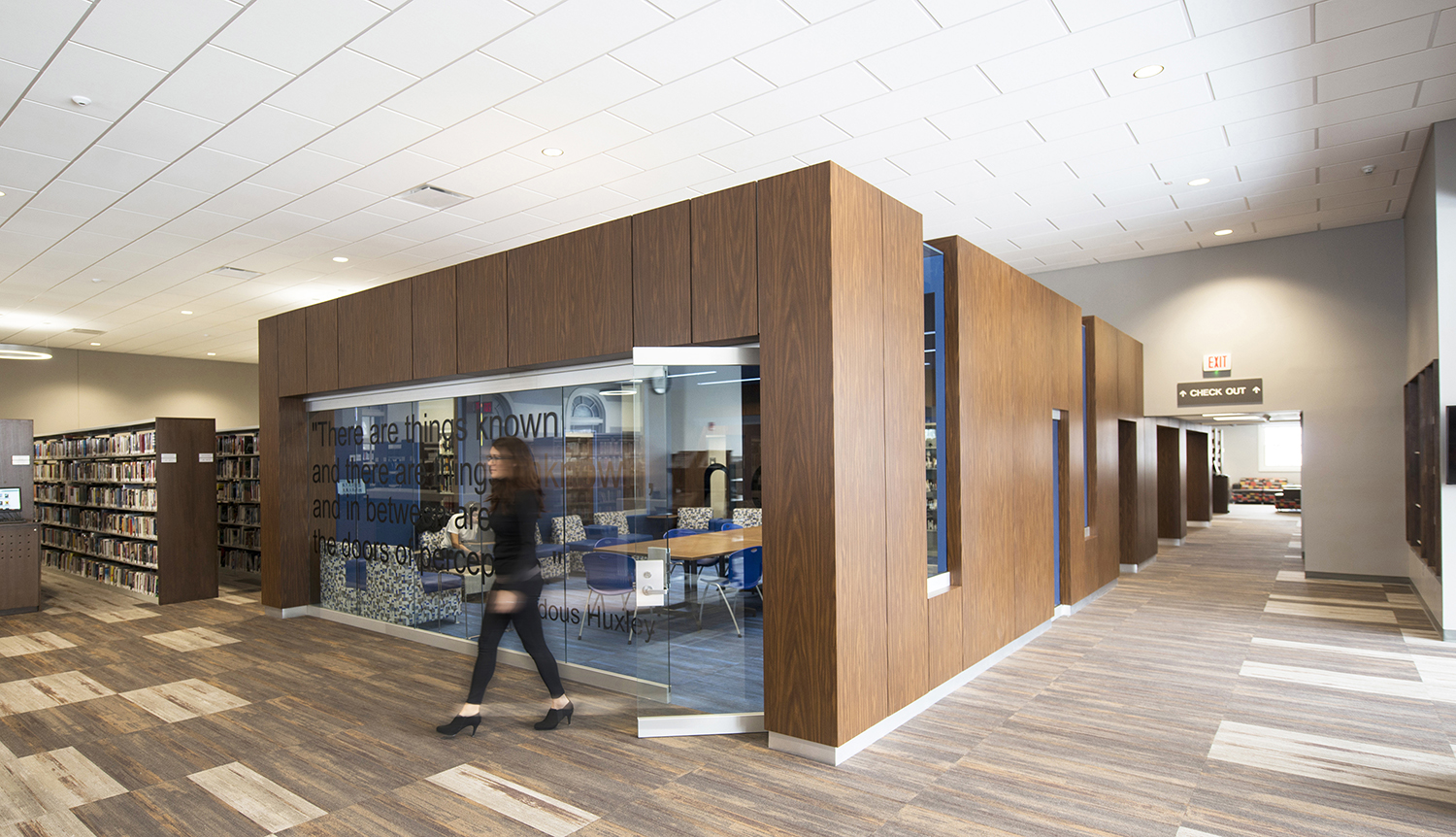 Commons
La Porte County Public Library
Where Everybody Knows Your Name
La Porte, Indiana
The La Porte County Public Library embarked on a new mission to redefine the role a public library could play in Northwest Indiana, one that dedicates itself to lifelong learning and public involvement. The backbone to every good community is a functioning relationship between three places: (1) home, (2) work, and (3) social hubs. These hubs, more commonly referred to as "third places," are the gatekeepers to our community's personality. They are the places where we interact with one another and, in many ways, frame our perception of the world around us.
In his book, The Great Good Place, Ray Oldenburg formally defined a third place as "a generic designation for a great variety of public spaces that host regular, voluntary, informal, and happily anticipated gatherings of individuals beyond the realms of home and work." From historic churches to local pubs, these are the magical places that shape our lives. They are where we tell our stories, expand our talents, and share our dreams with sympathetic friends. Every good library is a third place.
With a growing patron base, the La Porte County Public Library was reconsidering their role within the community. In analyzing their seven locations spread across two counties in Northwest Indiana (Main; Rolling Prairie; Coolspring; Fish Lake; Hanna; Kingsford Heights; Union Mills), they knew improvements needed to be made to ensure they could provide services for future generations. However, it was also clear they needed to be perceived as more than a warehouse of books. With MKM's guidance, they embarked on a $12 million comprehensive capital improvement plan focused on transforming each library into a "third place" for the different communities they serve. Most importantly, they strived to create inclusive civic space designed to engage people of all ages and abilities.
During the design process, MKM facilitated numerous focus groups with staff, patrons, and community stakeholders to better understand the needs and assets within each community. In response to these discussions, key goals were established as guiding principals for the project:
Fuel passion for reading, personal growth, and learning. Build a community around books, contribute to the education of local youth, support and develop literacy initiatives for all ages, and provide high-quality free instruction and programs to support personal growth.
Expand access to information, ideas, and stories. Develop relevant and inspiring collections that meet evolving need and expectations, improve information access and delivery through technology, and lead the community in providing enhanced access to digital materials.
Create and empower vibrant thriving communities. Bring library resources to people, establish the library as a focal point and resource hub within each community, and adapt spaces and services to support local user groups.
Build partnerships to make a difference in people's lives. Deploy an organized approach to partnering that best leverages library and partner resources, and create alliances with government agencies and community groups to benefit residents.
Foster an organizational culture of innovation. Develop individual and collective ability to innovate, use rigorous analysis to provide positive user experiences, proactively manage change with flexibility, and communicate and celebrate progress at the local level.
Each branch serving the La Porte County Public Library system was designed as a third place – each having a scope and scale that catered to the community they served. But what mattered more was that each space was designed to empower the library's staff to engage patrons and enrich their experience. As third places, these libraries were designed for more than books and computers; they were designed for compassion and camaraderie.
Awarded:
AIA Fort Wayne Merit Award – La Porte County Public Library, Main Branch
Michiana Builders Association Excellence in Construction Award – La Porte County Public Library, Main Branch
More Commons Projects