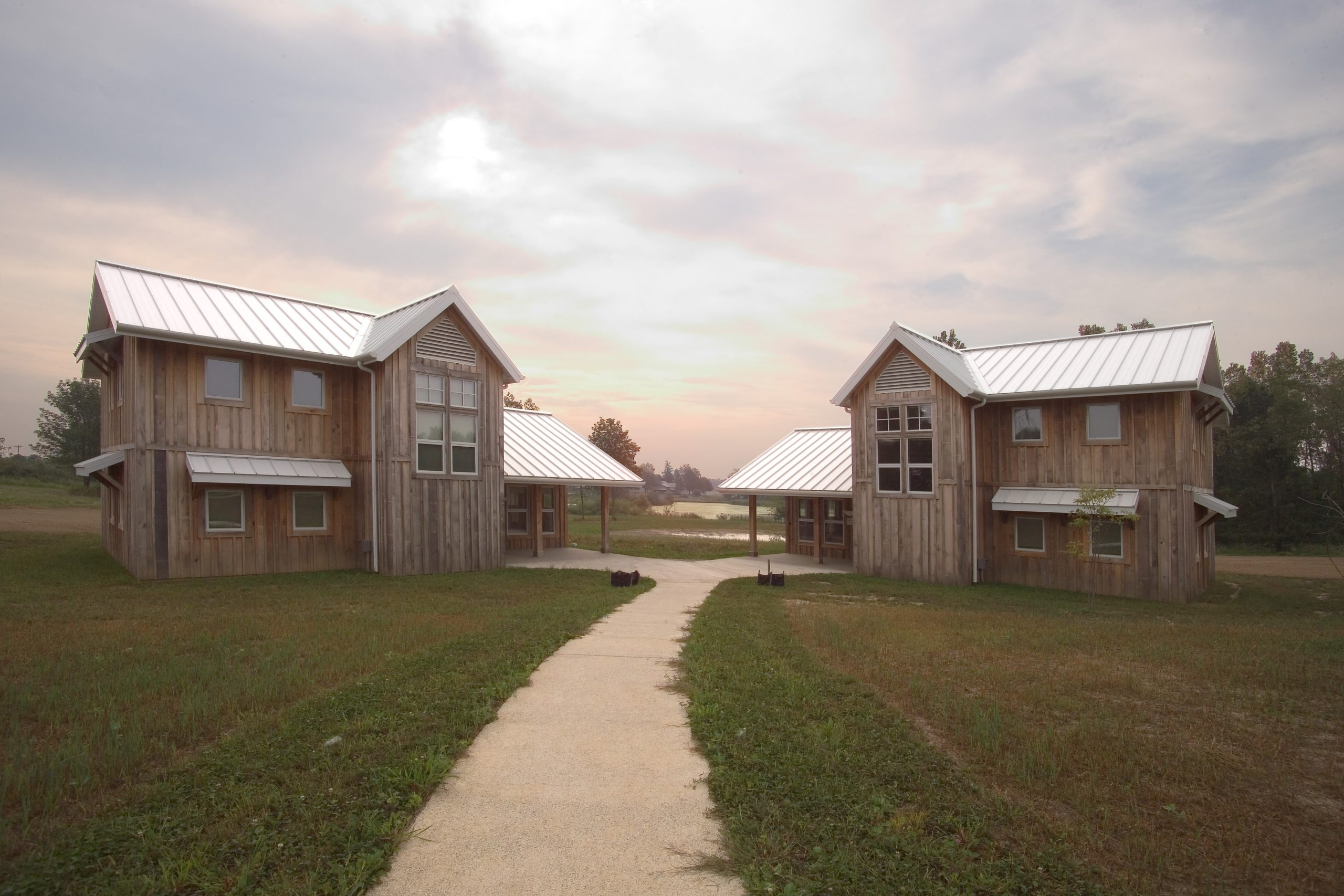 Workplace
Merry Lea Environmental Learning Center
Nature Sanctuary
Wolf Lake, Indiana
Nestled into a northern Indiana prairie with an overlook on a restored wetland, the Merry Lea Environmental Learning Center of Goshen College has received LEED Platinum Certification, and is the first to do so in the state of Indiana. Rieth Village is the first step in an ambitious master plan to construct model collegiate facilities on Goshen College's Merry Lea nature preserve. It is designed to support field-based environmental studies and to enhance an ongoing outreach to the public while remaining sensitive in every respect to the surrounding rural environment. The project also features a host of viable applications in sustainable 'green' design and was recently certified LEED-Platinum by the USGBC as part of its educational mission.
In response to the Owner's design charge for a technologically modern, energy-efficient facility possessing a "rugged elegance" that could blend comfortably with the nearby farmstead vernacular, the project's three exposed wood beam 'cottage' structures exhibit a wide range of environmentally sensitive design considerations.
Exteriors
Oriented for maximum solar gain, they share a high-efficiency envelope including six-inch stud walls filled with recycled cellulose insulation, triple-glazed fiberglass-framed operable windows and vented aluminum roof systems to dramatically limit solar heat loads.
Rough-sawn tulip poplar board & batten exteriors–locally harvested and milled by Merry Lea—give the structures an uncommonly warm appearance while exterior deck surfaces incorporate a recycled plastic composite board with a high-albedo/solar reflectance and ADA-compliant aluminum walk-off grates at all entry doors.
Interiors
Interiors include recycled rubber/cork composite floor tile in common areas and a recyclable/bio-based fiber carpet tile product in offices and bedrooms. Low-VOC paint, stain and adhesives in addition to a 95% recycled gypsum board product are utilized throughout and ceiling slat board treatments installed over classroom areas for acoustical control are also part of Merry Lea's local tulip poplar supply. Kitchen cabinetry is constructed entirely with a rapidly-renewable bio-composite hardboard composed primarily of sunflower seed hulls.
Eco-smart Systems
An integrated planning and design process optimized HVAC systems for all three buildings : a ground source heat pump with minimal duct work to lower air distribution energy and whole-house exhaust fan arrangements with operable windows allowing fan-assisted natural ventilation to cool the buildings as weather conditions permit.
Domestic hot water is generated by a solar thermal hot water system in each building and the back-up water heat source is a separate water-to-water ground source heat pump which further reduces the fossil fuel-based energy use in the buildings.
The project also incorporates a solar electric/photo-voltaic array and a 10 kW wind turbine that generate electricity from natural sunlight and prevailing winds for use in meeting the buildings' electrical loads. The combination of technologies puts this project well on the path toward life-cycle carbon-neutrality.
Crucial water-conserving site utilities include a 15,000 gallon underground rainwater cistern recirculating water to the buildings for laundry and toilets and a constructed wetland cell bio-filter system for on-site building waste-water treatment.
Landscape
An infiltration-based restorative native landscape design also combines a 'cleansing biotope' plant bed which pre-treats the cistern water and two 'rain gardens' managing storm-water surges to effectively eliminate storm run-off while improving the quality of water recharging the local aquifer.
Other site features include an entry drive constructed with recycled concrete, crushed and screened for size alongside adjoining vehicle parking bays paved with a highly previous 'gravel grass' system. Walk pavement between the buildings also consists of a specially formulated permeable concrete mix.
More Workplace Projects