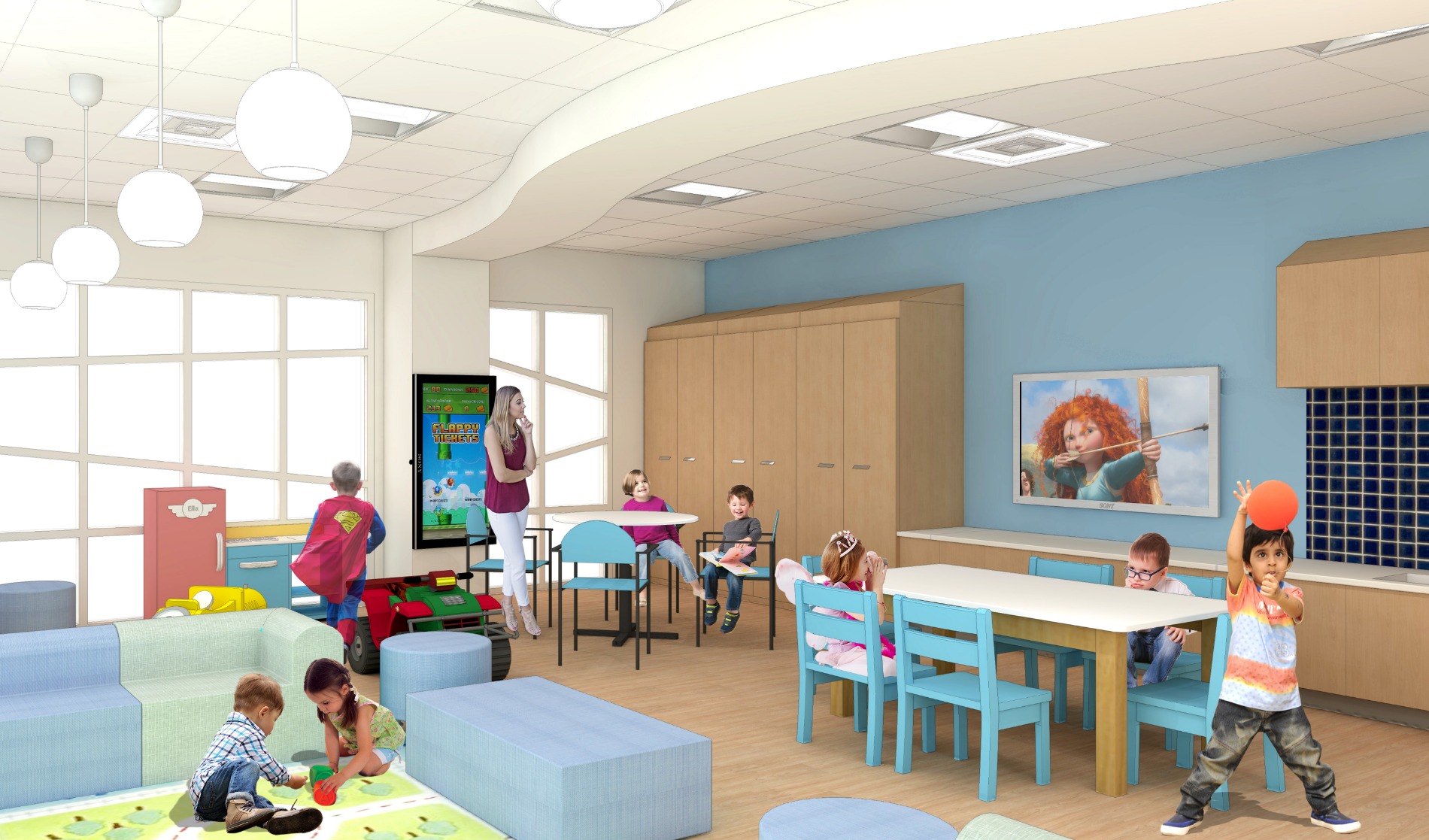 Healthcare
Peyton Manning's Children's Hospital at Ascension St. Vincent
Comforts of Home
Indianapolis, Indiana
Peyton Manning Children's Hospital at Ascension St. Vincent understands that hospital visits can be taxing. In an effort to alleviate that stress, they're creating improved spaces for parents, teens, and children to rest, relax, and play. MKM has partnered with Ascension and St. Vincent's Hospital since 2015, where our work has spanned from renovations to pharmacy compliance, creating better care environments for patients and their families. In 2017, we were tasked by Peyton Manning Children's Hospital (PMCH) to renovate their third and fourth floor family waiting rooms and play and teen rooms.
Previous to the renovations, PMCH's family waiting rooms were just that: an area to wait. Lacking in the comforts of home, these rooms provided little respite from the stress that inevitably comes with having a child in the hospital. Each uniquely renovated family waiting room offers an escape from the medicinal environment of the patient and care areas. All waiting rooms include a kitchenette and food warming station, USB connections for charging phones, as well as TV and computer access. Modern interior colors, comfortable yet easily rearrangeable furniture, and unique original mosaics by local artist, Joanie Rothenberg, create a welcoming environment for parents and kids alike. In the third floor waiting room, children and their parents are able to enjoy daily movie showings.
Around the corner from the waiting room renovations, updates to the play and teen rooms on the third and fourth floors are also in progress. The design team was tasked with accomplishing three goals within the scope of the project: create a more technology-friendly space, design a layout that encourages active play on both the teen and children's sides, and include more storage space within the interior design. In each sectioned-off teen room, iPad's are built into the walls for public use, while in the playroom area, monitors are included to display special programming such as staff story time from the other floor, which can then be viewed on the other floor. Other features include storage cabinets displayed along the walls to help with organization, adult seating options, and video games and air hockey tables in each teen room.
More Healthcare Projects