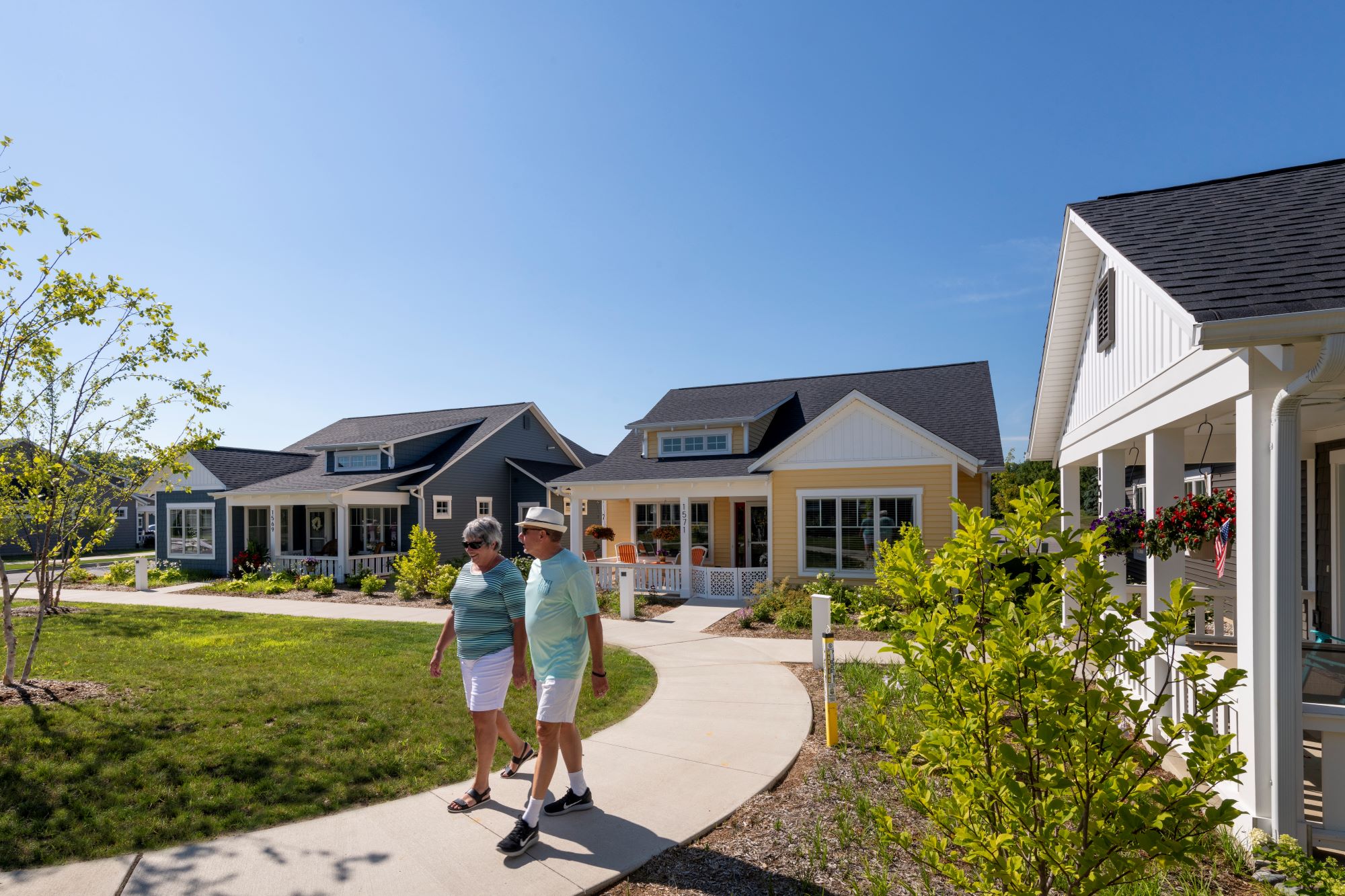 Housing
Piper Trail Lutheran Life Villages
The Future of Social Independence
Fort Wayne, IN
Piper Trail, a 12-acre neighborhood, is positioned within Inverness Centre in southwest Fort Wayne, Indiana. Walking and biking paths connect 48 single-family homes to shopping, recreation, and surrounding neighborhoods. Residents have the option of eight different cottage styles, which include one-and-two-bedroom homes ranging from 1,140 – 1,520 square feet and attached garages. Pocket neighborhoods are a growing development model that clusters cottage-scaled homes gathered around a shared common ground within a larger community. While helping to maintain resident independence, this model has been proven to foster meaningful neighborly relationships and increase socialization. Piper Trail offers residential living and support appealing to active adults not interested in traditional life-plan models.
The renovated Piper Trail Clubhouse is the social focal point of the "pocket neighborhood" at Piper Trail
The Piper Trail Clubhouse renovation involved the reconfiguration of Lutheran Life Villages' (LLV) existing Adult Day Services facility to allow for the continuation of excellent services for day services clients along with the creation of a new Clubhouse as a social focal point for the emerging senior "pocket neighborhood" at Piper Trail. The Clubhouse includes an activities center, bistro, fireplace, fitness room, and outdoor patio.
Like all LLV community spaces, the Clubhouse is warm and inviting, with unique design details. For example, the wood beam that serves as the mantel for the fireplace focal point is made of reclaimed wood sourced from Lutheran Life Villages CEO Alex Kiefer's barn. It's little touches and the stories behind them that set LLV apart from the rest. That is certainly the case with the Clubhouse at Piper Trail.
More Housing Projects