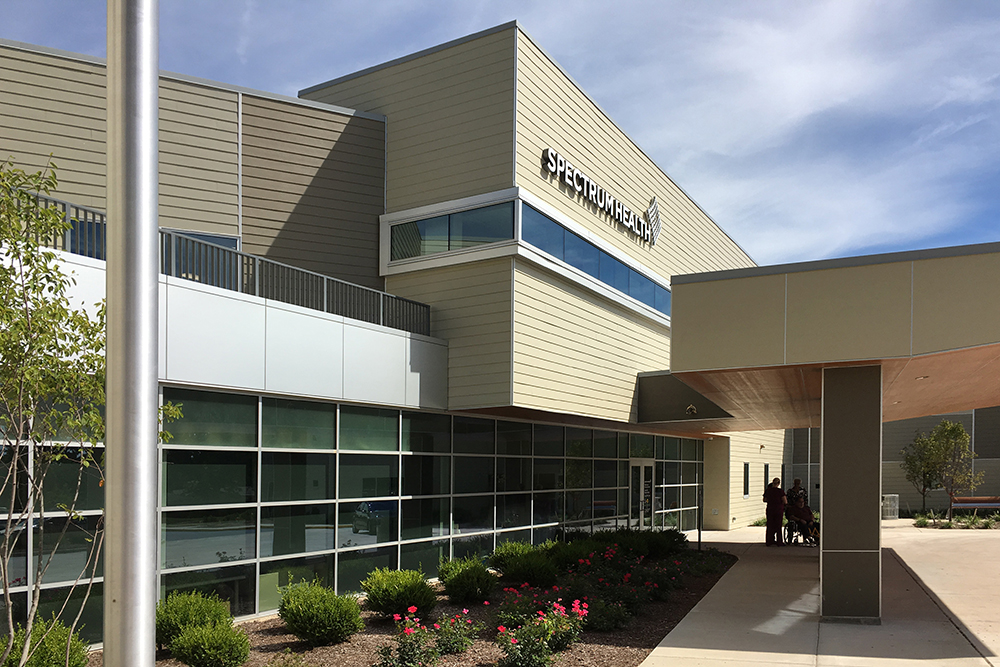 Healthcare
Spectrum Rehab & Nursing Center
Service with a Smile
Grand Rapids, Michigan
In Grand Rapids, a new campus showcases how hospitality starts at the front door – providing a long-term care experience focused on redefining service and prioritizing a healing environment. Spectrum Health's renovation and expansion of its Rehab and Nursing Center involved construction of a two-story, 123,220 SF campus that replaces their campus first built 50 years ago. Spectrum Health's Kalamazoo Avenue location features the latest in innovative design concepts to create an environment of healing for rehab patients while providing a home-like environment for long-term care residents.
The design was centered around a desire to enhance the "hospitality" experience for patients and guests. The initial concepts for the building were inspired by the Planetree Care Components, focusing on human dignity and integrative paths to well-being. To highlight the dedication to this idea of hospitality, great care was given to understanding what it would feel like to arrive at the new building. This idea of "arrival" became extremely important to the design, signifying the moment that care began for those arriving, as well as the moment care concluded for those leaving. Often this transition occurs at a conventional drop-off/pick-up area. Here, the design team tried something different.
Often referred to during design as the "threshold" – an entry court was explored in great detail to provide an area that could mark the limits of hospitality and set the stage for the level of care one would receive upon entry. This area not only served as the introduction to the care experience, but as a spatial front door for all who enter.
Beyond the threshold is a modern long-term care campus intently focused on effective care. The new building offers short-term rehabilitation services on the first floor and long-term care on the second floor. A large room on each floor is used for meals and recreational activities. Each floor is divided into four "households" with separate living areas.
The first floor features 77 beds, mostly private rooms and offers a Commission on Accreditation of Rehabilitation Facilities (CARF) accredited rehabilitation program, specially equipped to serve those recovering from traumatic brain injuries. The second floor has 88 beds with the majority being in enhanced semi-private suites. The project also included fully-equipped rehabilitation gyms, private treatment rooms, and a low stimulation area specifically suited to patients with neurological conditions.