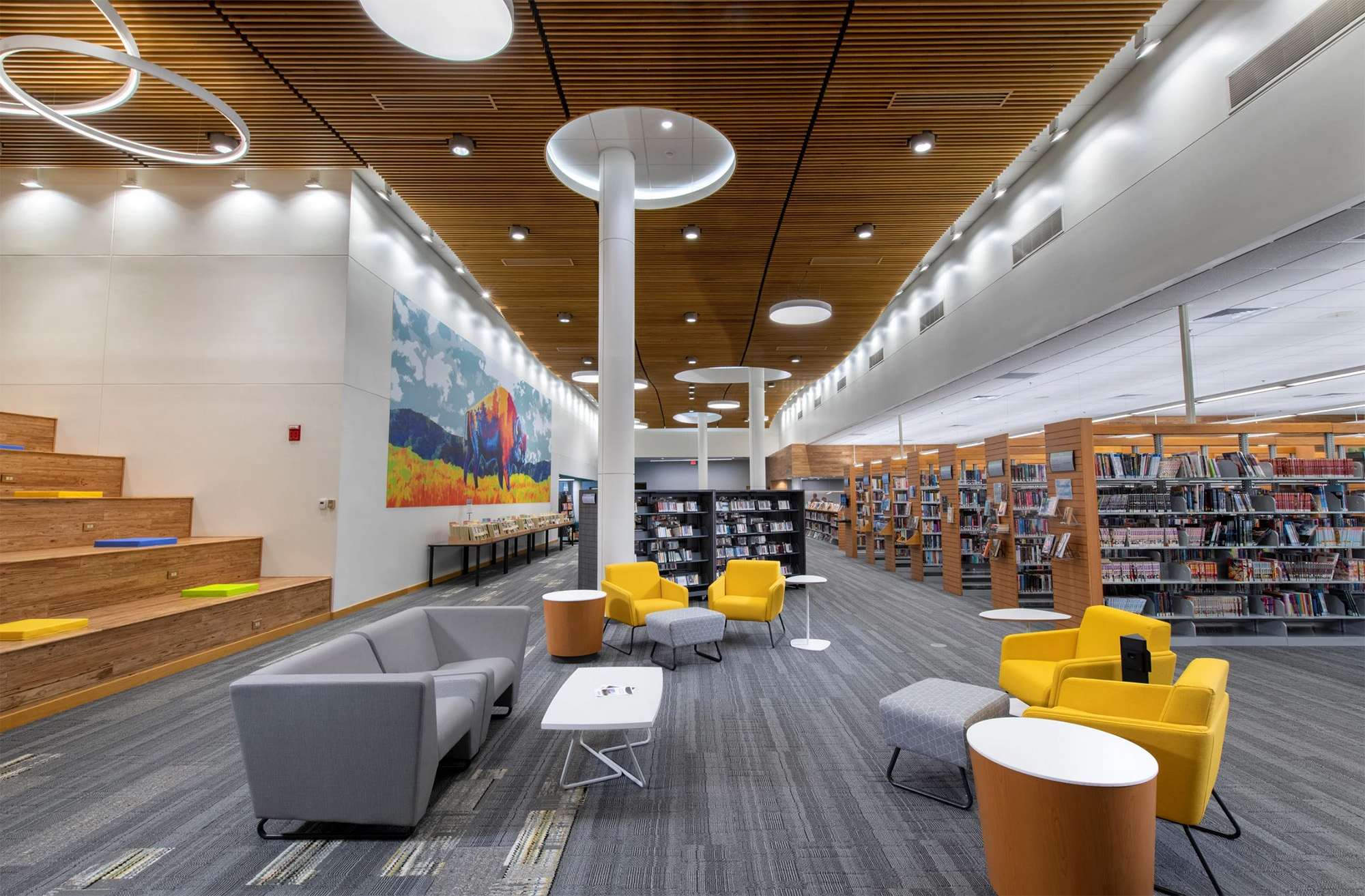 Commons
Wells County Public Library
Your Go-to Spot
Bluffton, Indiana
"The Parlor City" welcomes its community to a re-envisioned third place at the Wells County Public Library – the go-to spot for everyone. Bluffton, Indiana has been known as "The Parlor City" for over 100 years, due to their early adoption of paved streets and clean public spaces. The parlor was the room in the home where guests were welcomed and entertained. The client's mission for this project was just that: allowing the Wells County Public Library to function better as a third place where all guests feel welcome.
The project scope included a transformation of the main lobby space, seating areas, meetings rooms, administration and genealogy departments, and the children's and teen departments. Also incorporated into the project are new circulation desks for all departments. Many existing spaces and resources were reallocated in the renovation for an increased focus on public engagement.
The Wabash River and surrounding bluffs are represented in a new biophilic undulating wood ceiling that floats above the main lobby space. The ceiling turns a corner to invite patrons into new tiered seating with bright rings of light above. A colorful bison wall mural brings a regional icon indoors, which was the result of a community-wide survey. Patrons follow the winding river pattern of the carpet to the new interactive tree house wall in the children's department.
A natural color palette is used throughout the entire renovated space allowing more vibrant accents from furniture and art. Technology is made more accessible via charging stations and furniture in both public and private seating areas throughout the library. The new immersive lounge adjacent to the large meeting rooms provides a buffer zone for quiet conversation and community interaction. This project is positioned to celebrate a refined way of social welcoming for a community-centric lifestyle, which is what Bluffton, Indiana is all about.
More Commons Projects