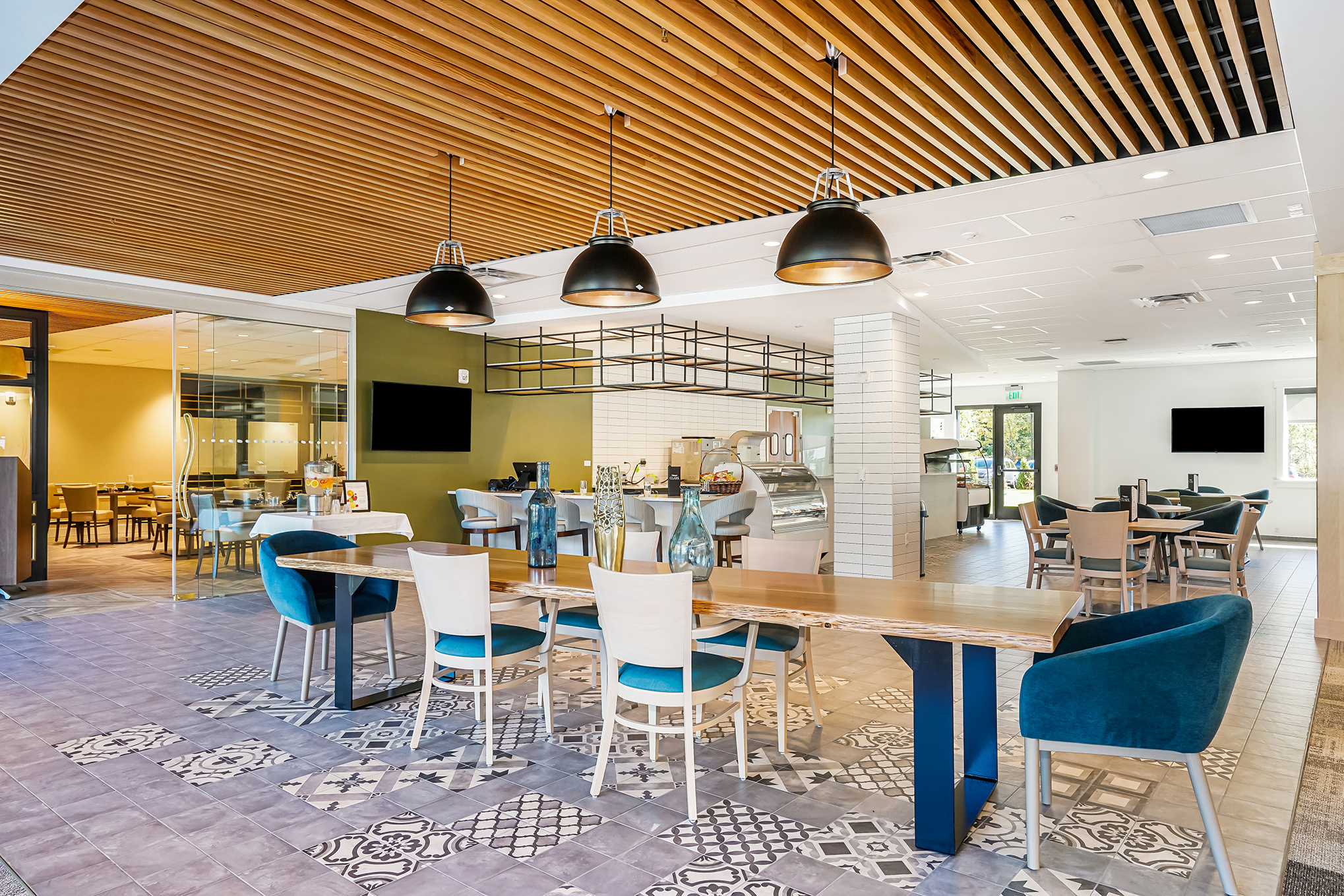 2023 AIA Indiana Healthcare Design Award
MKM architecture + design has received a Citation Award for Clark at Keller Lake in the 2023 AIA Indiana Healthcare Design Awards, under the category of New Construction (construction cost greater than $25 million). Awarded projects were announced during the AIA Indiana Healthcare Design Symposium on Friday, August 18, at Indiana Landmarks in Indianapolis.
MKM worked in partnership with Progressive AE to imagine Clark at Keller Lake, a senior living campus in Grand Rapids, Michigan, committed to creating a place that appeals to tomorrow's older adults. The campus establishes engaging environments and public spaces that encourage independent living residents to maintain their health, personality, and passions. Centralized social amenities include a café, wellness gym, restaurant, and other gathering spaces that are positioned and equipped to promote resident choice and prioritize social engagement. Living options are varied and appeal to a broad spectrum of individuals.
Design Goals Included:
To abandon more traditional automobile dependent design solutions
Develop an urban-inspired arrival and building entrance sequence, allowing visitors to connect with the various amenities
Design auto court facing resident apartments with living spaces and balconies that encourage dialogue between residents and visitors while adding "eyes on the street" to enhance personal security
Position interior social spaces on the ground level, adjacent to outdoor functions including dining, a firepit, and the lake overlook
Communicate the design goals to potential residents and offer the content on Clark's website to inform and create expectations of social engagement
Jury Comments:
"A senior living community with updated unit plans that better reflects how this population ages in place."
"This project is beautiful and thoughtful with their attention to curating different activities and zones throughout the complex. It moves seamlessly between private comfortable dwellings to active communal spaces both indoors and outdoors. In these zones the rich layering of space, texture and materiality make the project inviting and engaging. It also stayed true to the goals of the project and to prioritize the experience of the pedestrian above all others. This is a great example of what can happen when the occupant of a space is the highest priority on a project."