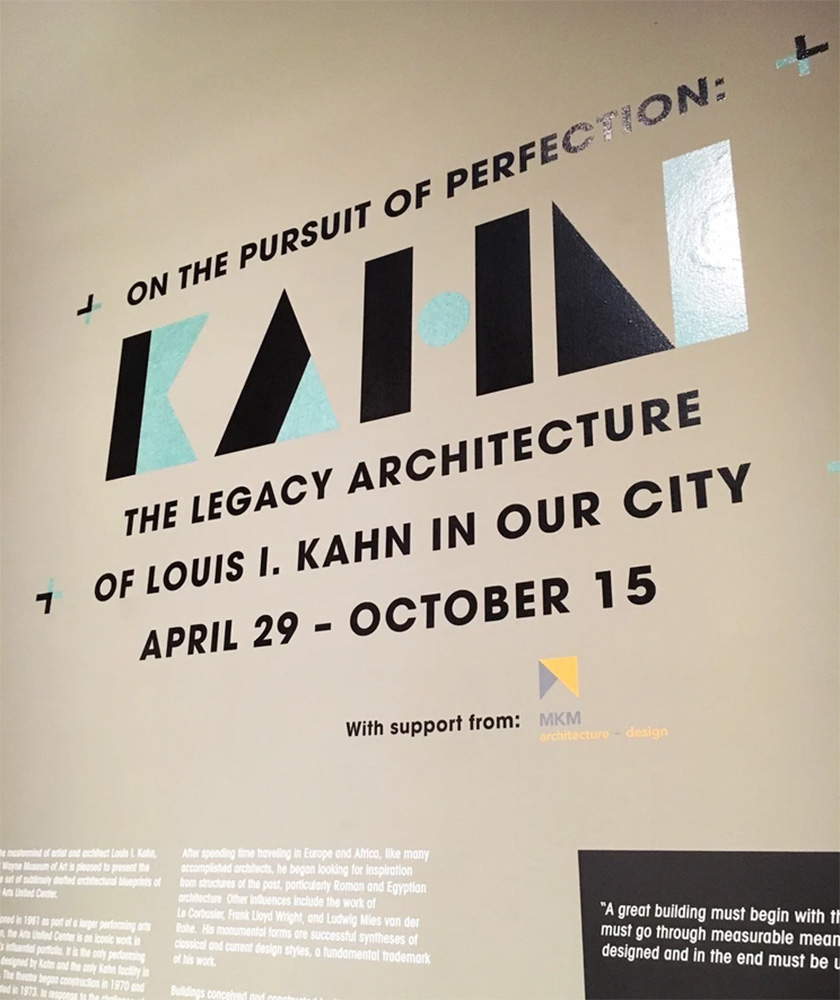 Louis I. Kahn exhibit now on display at the Fort Wayne Museum of Art
MKM architecture + design is sponsoring an installation currently on display in the Fort Wayne Museum of Art called On the Pursuit of Perfection: Kahn, The Legacy of Architecture of Louis I. Kahn in our City.
Louis I. Kahn
Louis I. Kahn studied architecture at the University of Pennsylvania and went on to open his own firm in 1935. Known for his modern monumental, yet timeless architecture, biography.com tells us, "from the start, he was interested in architecture's role in social change. He created housing for factory workers during World War II, and later in the 1940s worked on buildings for labor unions." His more admired pieces of architecture include the Salk Institute for Biological Studies in La Jolla, California (1959-65) and The Kimbell Art Museum in Fort Worth, Texas (1966-72).
Impact on Fort Wayne
A group of Fort Wayne leaders had followed Kahn's talent over the years, and in 1961, commissioned him to create a central hub for art organizations, housing a fine arts and historical museum, theater, orchestra, and art school. While committee members wanted the arts center to be built on a local university campus, which would keep costs low, Kahn won the argument stating the center would be a place for social and creative interaction, and was therefore destined to be downtown. The project's original scope was a 9-building and 3 outdoor space campus. In the end, after many starts, stops, and budget cuts, his work was vastly reduced; only the Performing Arts Center (now known as the Arts United Center) was built.
The Exhibit
On the Pursuit of Perfection: Kahn exhibit, which focuses on his blueprints, will be on display in the Fort Wayne Museum of Art until October 15th. A second exhibit, Becoming Present: Louis I. Kahn and the Art United Center, which walks through the story of his sketches, will open July 22nd and also run to October 15th.
Special building and exhibit tours will be held July 11th from 1-2:30pm, August 12th from 2-3:30p, and September 1st 2-3:30p. A curator's tour will occur September 7th at 12:15p. On September 29th at 6pm, MKM's Zach Benedict will be the guest speaker for the evening at the Kahn Exhibit Party. RSVP at fwmoa.org/rsvp. Hope to see you at the museum!