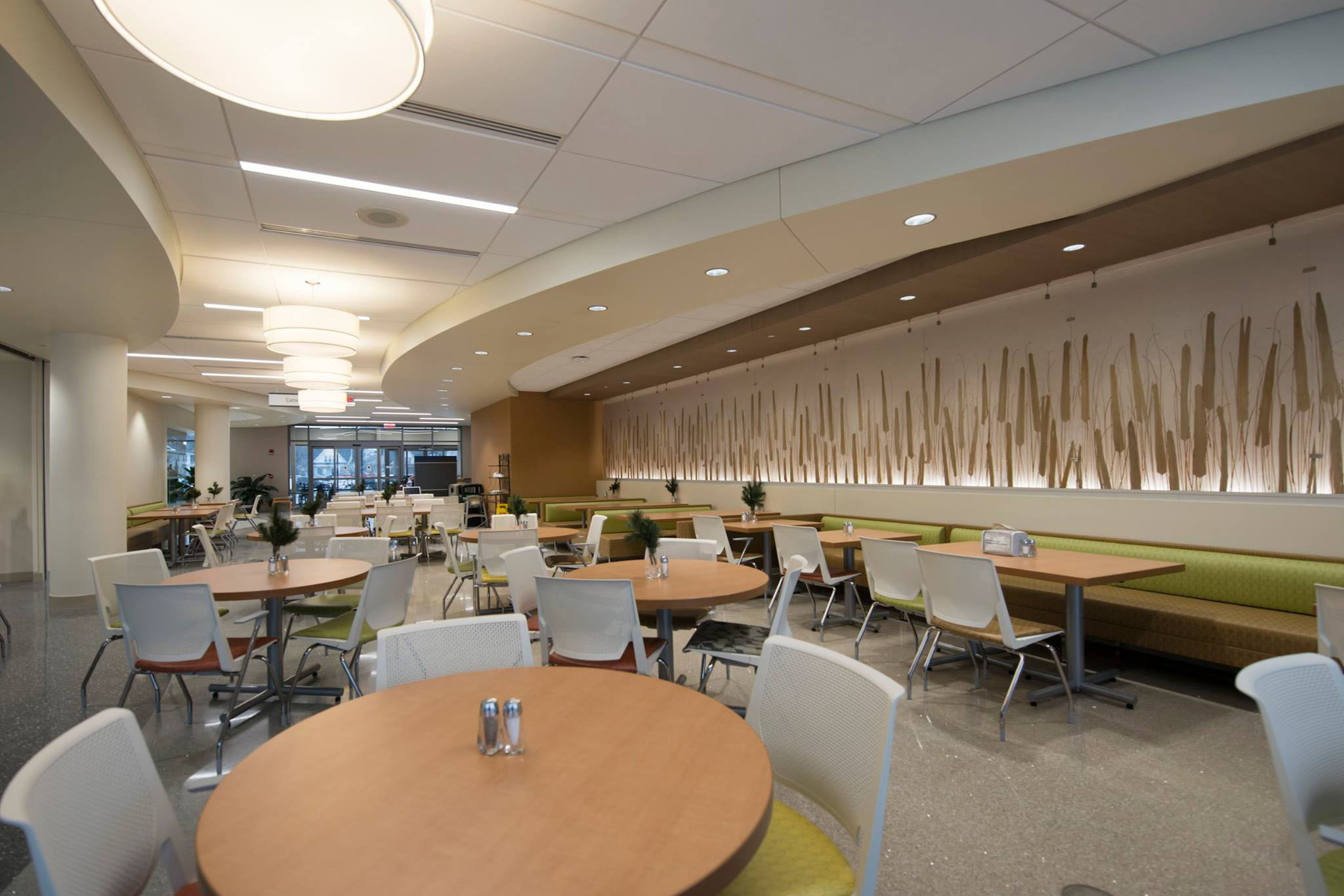 Healthcare
Cameron Memorial Community Hospital
Food for Thought
Angola, Indiana
It's not every day that an ordinary hospital cafeteria turns into a community destination, but this is exactly what happened at Cameron Memorial Community Hospital. Cameron Memorial Community Hospital was located just east of Downtown Angola, Indiana. In order to keep its Critical Access Hospital license, the facility needed to retain a portion of its existing structure. To do so, a substantial addition was designed while a small portion of the existing hospital was retained (over 70,000 SF of the original structure was razed).
There was a key focus on wayfinding from the initial planning sessions – despite the fact the hospital remained in operation throughout construction. The public spaces throughout the building, from reception area to the patient rooms, provide a series of queues utilizing various day-lighting strategies to encourage patients, visitors, and staff to move freely through the building. As the primary civic institution within the community, the design strives to better understand how a modern rural hospital could function as an inclusive and vibrant gathering place for the community it serves. This is where the food comes in.
To offer a welcoming entrance without adding square footage to the building, the central dining function for the hospital was redefined as the new lobby. In positioning the main public corridor along the north face of the building (moving east to west), this interactive dining area functions as a centralized hub of activity within the building. Surrounded in spaces designed for community outreach and education (e.g., meeting room), the open lobby concept anchors the circulation within the building and provides a constant visual connection with the adjacent healing garden.
Like many Critical Access Hospitals, the majority of Cameron's volume is largely based on outpatient services – a model that offers a high volume of patients, family, and staff moving throughout the building. The purpose of the building's basic organization was to not only enhance operational efficiency, but also provide a public institution that would be just as comfortable and welcoming to non-patients. By offering a place that could accommodate meetings of all types, the design of the new hospital dedicated itself to engaging the neighborhood and redefining its understanding of what a "hospital" should feel like.
There is an array of evidenced-based design strategies present in the new facility, from same-handed private patient rooms to postpartum swing bed spaces; but for this rural community there was something else that was critical to ensure the project's success. It needed to function as a civic landmark, one that was perceived as more than simply a place for sick people to visit. It needed to be a gathering place, a place for fellowship and well-being. The new Cameron Memorial Community Hospital needed to be a place that did everything it could to serve the community… one cup of coffee at a time.
Awarded:
AIA Fort Wayne Merit Award
More Healthcare Projects