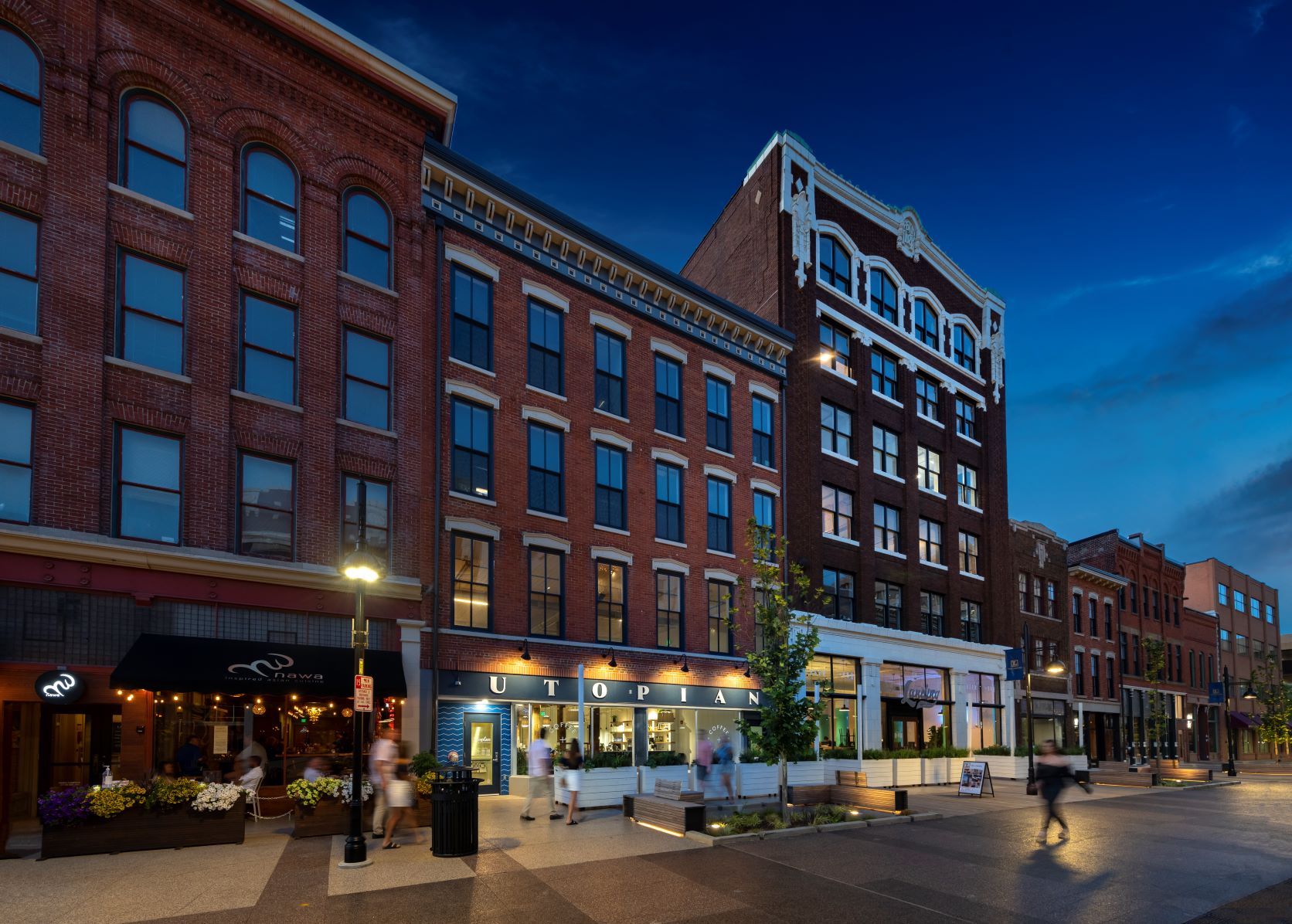 Making History, Again
Fort Wayne, Indiana
For more than 185 years, The Landing has been a central figure in Fort Wayne's history. After lying dormant for years, its rebirth is making history all over again. Columbia Street (affectionately referred to as "The Landing" for generations) has a long history in downtown Fort Wayne. As one of the oldest commercial districts in northern Indiana, the area had been underutilized for decades. Recent resurgence in downtown redevelopment sparked a renewed interest in the area. Envisioned as a mixed-use development designed for work-live-play, this public/private partnership between the City of Fort Wayne and The Model Group (developer of "Over-the-Rhine" district in downtown Cincinnati) utilizes a complex financial model to make this complicated project a reality.
While the historic buildings were carefully restored, a new four-story mixed building was positioned in the heart of the development. The new construction honors the scale and character of its historic neighbors while clearly moving The Landing into the 21st century. With the commencement of riverfront development one block north, and the projected growth of the Arts District one block to the east, the location of The Landing perfectly fits its goal – to be a catalyst for continued interest and growth in downtown Fort Wayne.
Awarded:
BCA Excellence in Construction Award
ARCH Preservation Partnership Award
ASLA Indiana Merit Award
The Landing Gateway Markers
Rather than a ribbon cutting ceremony to mark the opening of The Landing streetscape, there was a lifting of the gates. In addition to the careful restoration and reuse of numerous buildings, MKM led the design of The Landing Gateway Markers. Designed as a place to work, live, and play, special importance was given to the streetscape as a gathering and pedestrian-friendly place. The street, buzzing with new businesses ranging from boutiques to restaurants is designed as a complete street, with calming automobile traffic and heightened pedestrian mobility. The district gateway system protects pedestrians from regular street traffic, but allows for street access as needed.
The design for the Gateway Markers was inspired by industrial age canal lanterns calling back to The Landing's history. The challenge was to marry the design inspiration with a functional gating system. Branded gate arms nest into a latticed metal structure on each end of the historic district. When lowered, the gates create a barrier indicating vehicles are unable to pass through. At night, the tops of the Gateway Markers are illuminated, reminiscent of the canal lanterns that once guided boats on their way to The Landing.
More Housing Projects