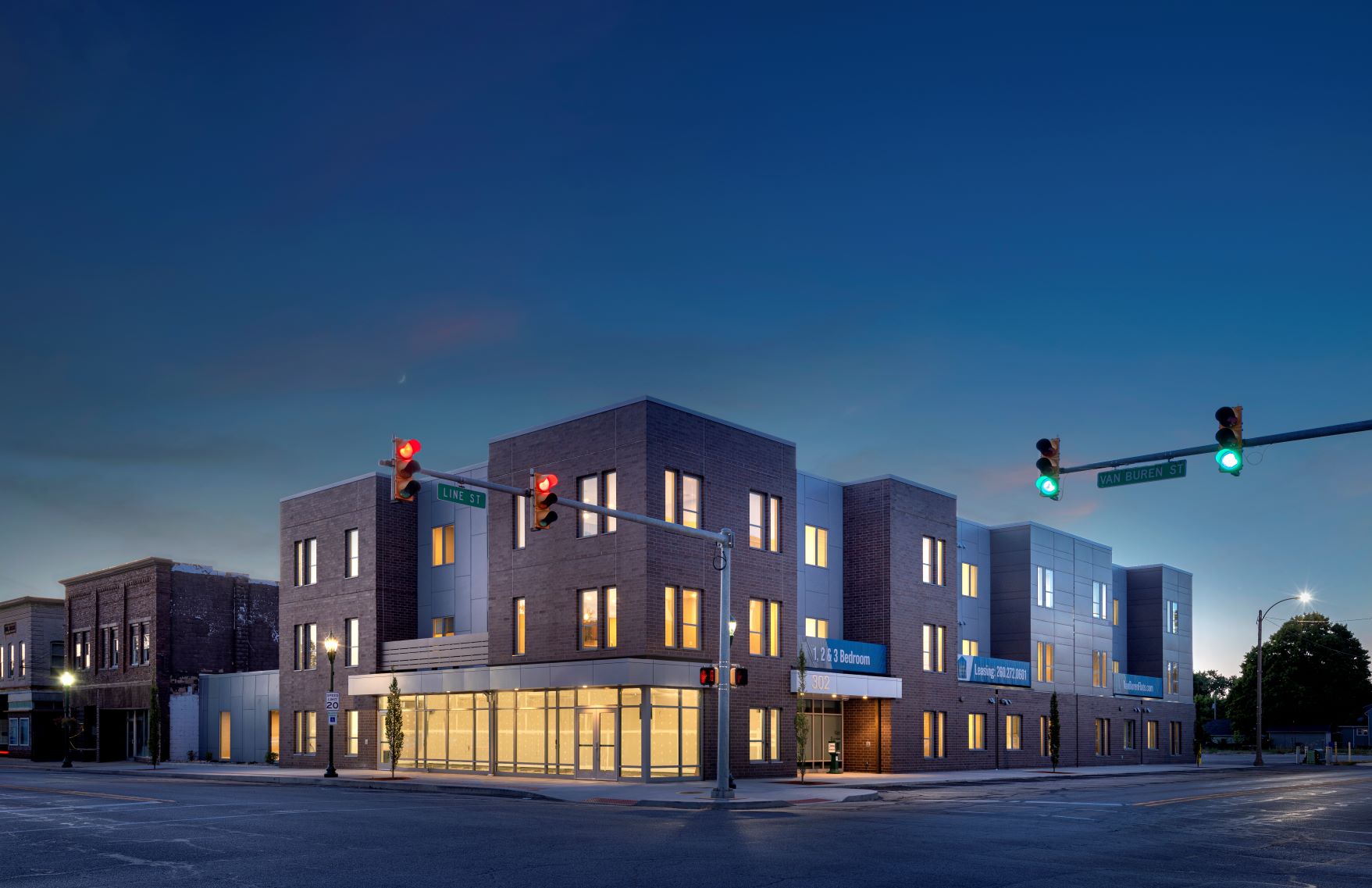 Affordable Housing with Purpose
Columbia City, Indiana
Van Buren Flats in Columbia City, Indiana provides intergenerational, affordable housing that fosters community through intentional neighboring. The result is an active and diverse neighborhood in the heart of downtown. In recent years, Columbia City has begun efforts to reinvigorate their downtown center. In 2016, MKM architecture + design was engaged to complete a feasibility study for a section of the downtown plagued with numerous vacant buildings. The resulting development places community attachment and happiness at the forefront of the design. In 2008, the Knight Foundation launched the Soul of the Community study in which they found that successful cities consistently prioritize community attachment in three categories to spur economic growth:
Social Offerings – opportunities for social interaction and citizen caring
Openness/welcomeness- how welcoming the community is to different people
Aesthetics – physical beauty and green spaces
The project aims to provide a feasible development for the downtown, reactivate the street corner with pedestrian activity, and promote a model for urban living in the rural community. The positioning of the building on the corner of Van Buren is intentional, providing opportunity for a commercial presence on the ground level to engage pedestrians and improve overall walkability of the downtown corridor. The development reactivates the previously vacant lot into an active neighborhood promoting the ability to live, work, and play within the existing urban core. The existing building to the west informs scale and material selection for Van Buren Flats, with window and masonry to complement the existing downtown. A community space within the building provides tenants, ranging from young families to seniors, a meeting space to host events and programming. In addition, a private patio and green space are located behind the building for residents.
More Housing Projects