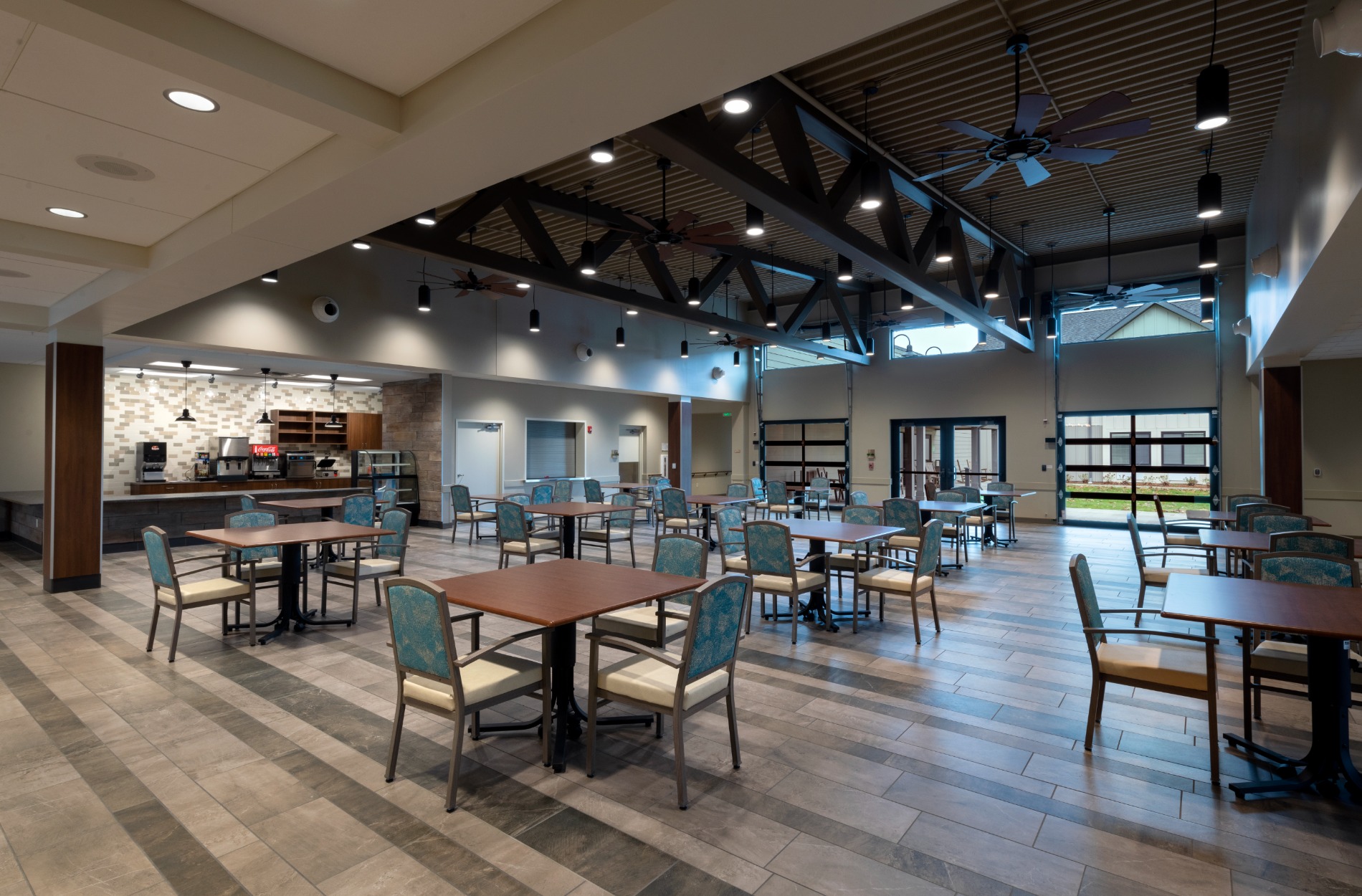 Healthcare
Byron Wellness Community – Lake Avenue
A Helping Hand
Fort Wayne, Indiana
Byron Wellness Community partnered with MKM to imagine a new campus, celebrating the lives and unique needs of the residents they serve. Byron is a nonprofit, independent community providing long-term healthcare, skilled nursing rehabilitation, memory care, physical and occupational therapy, and cognitive interventions. We worked together to create a campus which celebrates the lives and unique needs of the residents they serve.
Located on the corner of Beacon Street and Lake Avenue in Fort Wayne, Indiana, the 126,000 SF campus consists of six neighborhoods. The neighborhoods share common amenities, including a campus café, wellness center, multi-use event space, in addition to other care, administrative, and support spaces. This project is a physical representation of Byron's foundational belief, that, "We join each resident on their journey as guests in their home, advocating on their behalf." Creating a feeling of home and personal ownership for residents was at the core of the project. Each of the six neighborhoods features a shared common area, kitchen, and courtyard access. All neighborhoods have a unique interior identity, complemented with natural wood finishes and stone fireplaces throughout to provide a home-like environment. MKM prioritized understanding their operational model to ensure the new design would allow their staff to provide the highest quality of care with proper staff-to-resident ratios. Common spaces feature a collection of over 60 paintings by renowned Indiana artist Louis Bonsib.
The new campus eliminates barriers for residents, offering opportunities for freedom of movement and community engagement throughout the various neighborhoods and common areas. Residents now have private bedrooms with accessible bathrooms and storage, providing them with a sense of independence and ownership of their space. A large central courtyard encourages residents to access outdoor space independently. The combined amenities provide a comfortable home environment with an increased quality of life.
More Healthcare Projects