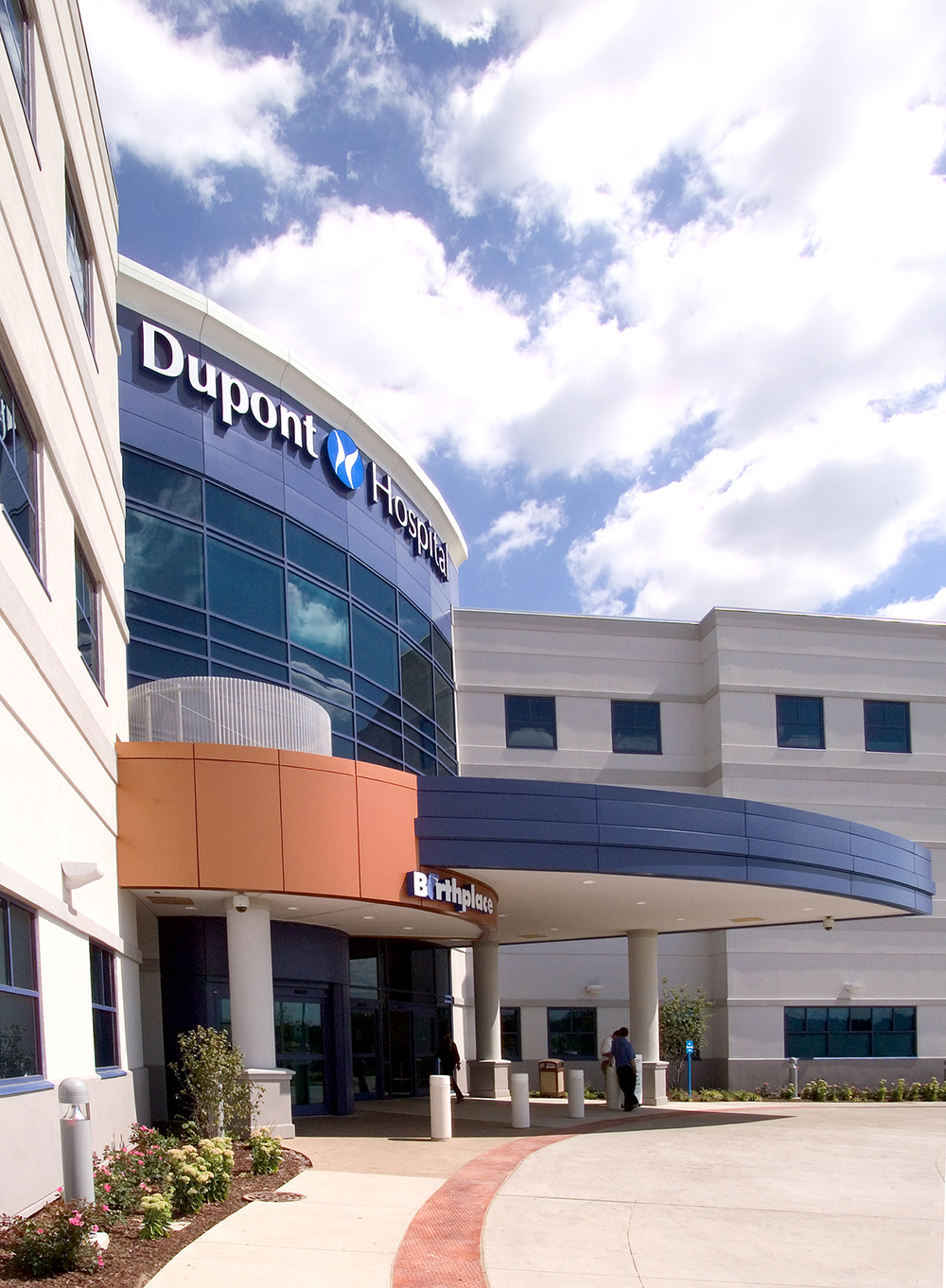 Healthcare
Dupont Hospital
Ever Forward
Fort Wayne, Indiana
For over fifteen years, Dupont Hospital, in alliance with Lutheran Health Network, has been a leading acute care facility in northeast Fort Wayne, Indiana. Providing a full range of medical and surgical services, Dupont is the city's first all-digital hospital. MKM has worked with Dupont on over twenty projects.
In 2006, the facility underwent a 77,800 SF addition and 24,400 SF renovation. With these changes, six operating suites, thirty inpatient beds, ten pre-post beds, and six ICU beds were added. Provisions allowed for future expansions to more than 200 beds. Diagnostic imaging was expanded with an additional CT Scanner and a new special procedure suite. Expansion and improvements were also made to the hospital's kitchen and cafeteria.
The 8,164 SF Neonatal Intensive Care Unit (NICU) expansion in 2008 included a wing with fifteen private patient rooms, an expanded procedure room, additional workspaces, and a medication area in the newborn nursery. With four additional NICU bays, the newborn nursery now accommodates twenty newborn babies. As part of the planning process, the design team shadowed physicians and nursing staff to gain a better understanding of workflow and nursing care. Additionally, interviews were conducted with parents whose infants spent time in the facility. This research process allowed the design team to identify the problems both the patient's family and the nursing staff faced, and incorporate solutions to these issues into the end design.
The Center for Breast Health is located on the second floor of the 2510 medical office building in the Dupont Business and Medical Park. The 2009 project consisted of approximately 6,460 SF of renovation. Included in the project scope were two registration and lobby, mammography rooms, ultrasound room, stereotactic room, nuclear medicine exam room, radiology reading room, staff offices, staff workspace, and break rooms. An enclosed stair was opened and decorative handrails and guardrails were added up the suite's main entry.
Other Past Dupont Hospital Projects
Ambulatory Surgery Center renovation within Medical Office Building
Dupont Resource Center Expansion Study
Medical Office Building Lobby Life Safety research for Ambulatory Surgery Center
Time study analysis to accurately document and measure how staff spends their time before and after Computerized Physician Order Entry (CPOE)
Sleep Lab Indiana State Department of Health approval
Joint Commission documents
Creation of two new outpatient-based ultrasound rooms, two echo rooms, an echo stress test room, and a blood-draw station for the coumadin clinic
OB Door installation for improved patient privacy
Addition of patient room patient lifts in two Intensive Care Unit and two medical-surgical rooms
Radiology renovation
HVAC upgrades, nurse server upgrades, new Stryker Lights and boom with lighting control integration
Surgery Renovation
Emergency Department renovation
Conversion of two patient rooms into a Birthing Suite
Resource Center in Medical Office Building Two
Renovation to hospital administration department
Renovation of MOB for histology department
Neonatal Intensive Care Unit, including a fifteen-unit private patient room wing, expanded procedure room, workspace, and medication area in the newborn nursery
Front lobby renovations
Addition of dedicated pharmacy hood for neonatology oncology program
Physician Sleep Unit, schematic study
MOB common space, tenant finish updates renovations