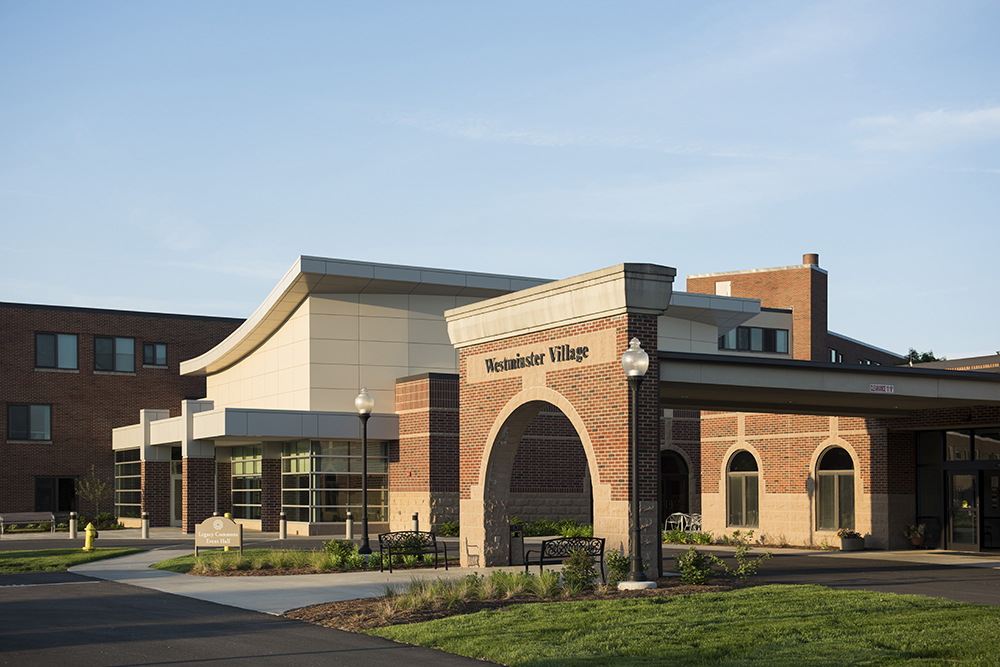 Healthcare
Westminster Village Muncie, Inc.
Spicing Things Up
Muncie, IN
By focusing on the importance of choice, the renewed campus at Westminster Village provides residents, patients, and guests a wide variety of amenities focused on an improved quality of life. Since 1974 Westminster Village Muncie, Inc. has been a retirement destination of choice for East Central Indiana. In an effort to both maintain this position and continue to continually renew, they returned to MKM after completing a major project fifteen years earlier to reposition the campus and develop a strategy that would strengthen their organization as it looked to the future. During the initial resident enrichment analysis, a series of recommendations were defined by the design team. Beyond needed infrastructure improvements and rebranding, three fundamental elements were explored:
1. Rehabilitation Household
A new physical therapy gym and 20-bed rehab household was constructed along the north edge of the existing campus. Designed with a spa-like aesthetic, this new space allowed Westminster to expand its service offerings and resident capacity while positioning themselves as one of the premier post-acute care providers in the region. A new garden for patient rehabilitation was also constructed with direct access from the new lobby and designated drop-off area.
2. Dedicated Assisted Living Households
The existing campus consisted over 200,000 SF of licensed residential apartments but did not have any designated assisted living households. By segmenting off a few wings of the existing residential area, a shared living/dining area was constructed to serve adjacent private rooms. A satellite kitchen, separate public entrance, and secured care garden was provided to allow the household to function independently while allowing residents to utilize adjacent campus amenities when desired.
3. Diversified Dining and Event Space
The most transformational design strategy grew out of changes to how dining and event functions were managed within the facility. The existing campus offered one central dining room and no functional space for large events. During the renovation, the entire central core was renovated to enhance social engagement and resident choice. A new event hall was constructed (with the additional ability to be subdivided into multiple smaller spaces) and the central core was renovated with updated finishes and lighting. A central business area including an independent living lounge, clinic, mail room, activity spaces, and new fitness gym was then positioned near the new event space. Finally, the central dining area was divided into two uniquely themed restaurants, served by the existing kitchen to offer expansive menus to guests. In addition to this, the existing library located near the main entrance was replaced with a small café. By locating all of these improvements along a shared linear lobby, residents and guests are confronted with numerous choices – a variety of social and care functions that empower them to determine the levels of interaction that define their everyday routines.
More Healthcare Projects